At GEOLYTIX we seek new and innovative ways to make spatial analytics accessible, exciting and indispensable.  Our customers span the retail, financial, property, leisure and food & beverage industries, across the world.
We build innovative solutions to support our clients to make better decisions combining various forecasting methods and statistical models, GIS and web tools to create bespoke solutions.  We are always looking to do things better.
We have fun and value every member of our team.
Are you our next Senior Data Analyst?
About the role
As a Senior Data Analyst at Geolytix you will be:
Answering our clients questions about their retail physical and online estates by understanding their customer data
Support data analysts to build demographic data for large and small countries across the globe - some needing a different approach to others
Support data analysts in how to create hypotheses and query and process to data to answer them
Continually looking for ways to evolve our existing data products using a wide range of data sources and analytical techniques
Support and uphold the standards within our database infrastructure
About You
You're already an experienced data analyst – your idea of a good day is receiving huge amounts of data and making sense of it
You enjoy problem solving
You enjoy hearing about how different retail businesses 'work' - and the business problems we can help with. You enjoy retail.
Ideally you know your way around a GIS (not essential)
You are quick and efficient at manipulating data in SQL and other programming languages, anything you don't know you can quickly grasp
You care about your code. You know your way around git and how to productionise processes you have built.
You're a 'people person' and build relationships with customers as you will lead projects on your own.
Your qualifications and experience
You are a pro at using SQL for data manipulation
Coding skills in at least one of Python, R, Scala, C, Java or JS
Data Analysis experience, ideally using customer and demographic data
A university degree – numbers based, Computer Science or Geography - not essential
Relevant industry sector knowledge ideal but not essential
A strong communicator with the ability to work with colleagues remotely across the globe
Be able to provide evidence of attention to detail, proactivity and managing deadlines
Other stuff
Our offices are in Leeds and Clerkenwell, London. This role is located in Leeds but we have others available in London so get in touch wherever you are. Competitive salary. We're a young and growing company who embrace flexible working; full time or part time, family friendly hours and/or working from home days considered
Benefits
Flexible working
City Centre office location
Vitality Health membership
Great maternity and paternity schemes
Cycle to work scheme
Tusker Car Purchase scheme
Bonus scheme
Opportunity for all employees to become a shareholder on our long term incentive plan
Interested?
If you are interested in this role and are looking for your next challenge, please send your CV and cover letter to careers@geolytix.com
No agencies please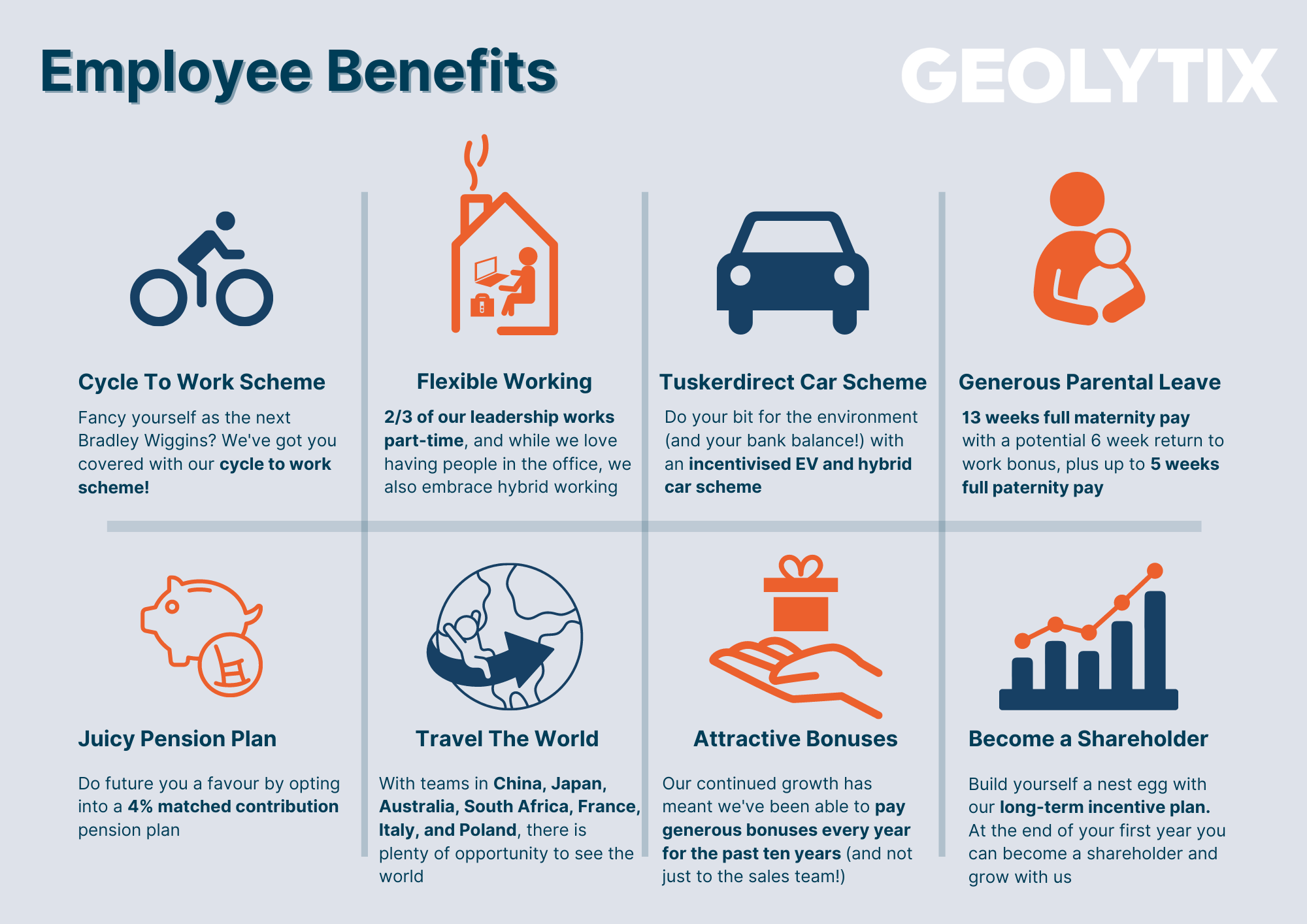 Main Photo by Clark Tibbs on Unsplash