I asked if they could wait a week for some sample data. They both agreed.
Sectors produced by Mid-scale hand digitisation in blue overlaid on the final Geolytix sectors in red.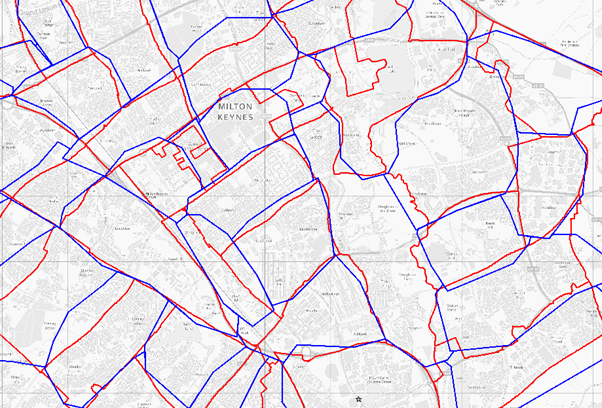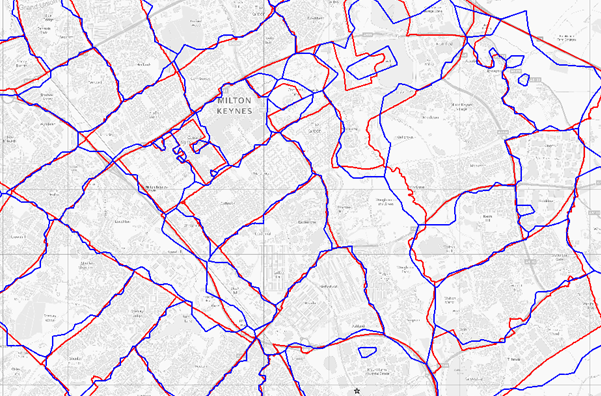 Currently postal geography datasets are usually created in one of three ways.
Start with Voronoi regions from postcode points, and then make a union object of the results by postal sector.
Use the OS Code-Point® polygons; themselves based on AddressPoint® Voronoi regions and union them to create sectors.
Hand digitisation at various scales
For years I have thought that none of these approaches produce satisfactory results. Both the Voronoi techniques produce… well… ugly results ignoring real world features. The hand digitisations always seem to end up with hundreds of thousands of postcodes in the 'wrong' sector and again don't follow real world features.
I used objects like railways, roads, rivers and administrative boundaries from VectorMap® District to populate a candidate boundary pool. Then created processes to select and string together line fragments from the candidate pool to form boundaries. I managed to automate 95% of the creation routines, the input from the Mark One Human Eyeball remained vital. In the week I had, I managed to create a sample set for the Glasgow postal area. After sharing this sample data, both customers were on board and were looking forward to receiving the GB dataset in six weeks. Yikes! I don't remember much of the next six weeks; I think they included a family holiday in Cornwall. Release one made it, just.
The early feedback I asked for was good.  Steven Feldman, KnowWhere Consulting said
"These Geolytix postal boundaries may well be the best option for postal geography and analysis. They illustrate what can be achieved by combining several OpenData products and are perhaps an early example of the technical and commercial innovation that OpenData release can prompt."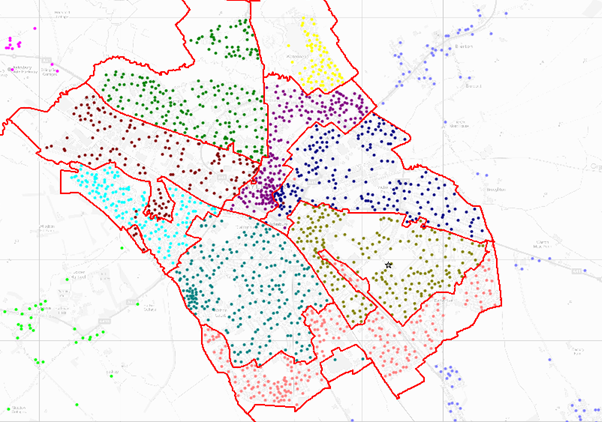 From the start my intention had been to build the best postal geography possible; it was a happy coincidence that I had only used Open Data in the production process. That use of Open Data meant the innovation could extend to licensing. I decided to 'go big'; Geolytix would release the entire un-crippled dataset as Open Data, and only charge a modest annual fee for updates. Thankfully the initial paying customers were supportive; they will be receiving free updates for as long as they wish.
Kjetil Fuglestad of the Post Office said: "The Geolytix postal boundaries are a key part of our corporate mapping package. The data's very high quality combined with the flexible licence made procuring it an easy choice for us"
I know many peers, competitors and potential customers will be examining and judging these data, do not underestimate the tension going 'open' puts into the quality bow. The set you can download at no charge is frozen and will never be updated or improved. I will be maintaining and improving the data continuously. You can license the Postal data and receive four updates a year, unlimited internal-use rights and dedicated support from the team.
Download here.
Enjoy the data.
Title Image: Photo by Krisztina Papp on Unsplash
The map images on this page contain Ordnance Survey data © Crown copyright and database right 2012, Royal Mail data © Royal Mail copyright and database right 2012, National Statistics data © Crown copyright and database right 2012, Postal Boundaries © GeoLytix 2012 copyright and database right 2012.