Retail Places covers over 20,000 areas across the UK and captures any retail parades where there are at least 3 units.  It provides town centre classifications with a strength score (a proxy for weekly shopping spend) and all shopping centres, classified with estimated number of units. This year we've included a 'Classy Brassy' score to differentiate the 'Marlows' and 'Wilmslows'.
And if that's not enough, there is a 10m pitch score to help you understand the micro locations of your estate or potential sites.
Our customers have tested our 2015 release and tell us it's the best out there for profiling, describing and modelling UK Retail.
"Retail Places is key in  understanding the relative strength of Retail areas  across the UK; ranging from major High Streets and Shopping Centres down to small parades of local shops. An excellent supporting tool when evaluating the geography of new space customer catchments, helping to establish how certain groups of population might gravitate towards particular retail areas dependent on their relative strength"   Stacey Thornborough, Market Insight Senior Manager, ASDA
Whilst it's great for helping with big investment decisions, it's also great for coming up with retail trivia facts. How well do you know your retail?
What is the densest fast food retail place in the UK?
What is the largest town centre without a Pizza Express?
What is the smallest town centre with a Next?
Which town centre has the highest number of shopping centres?
Scroll down for the answers!
New for 2015
We've been beavering away this year on lots of improvements……
Shopping Centres
The 772 shopping centres now exist as a separate dataset in the retail places pack. This covers all shopping centres from the latest 120 'destinations' through to the classic 80's and 90's covered centres down to the historical arcades and the latest urban entertainment centres.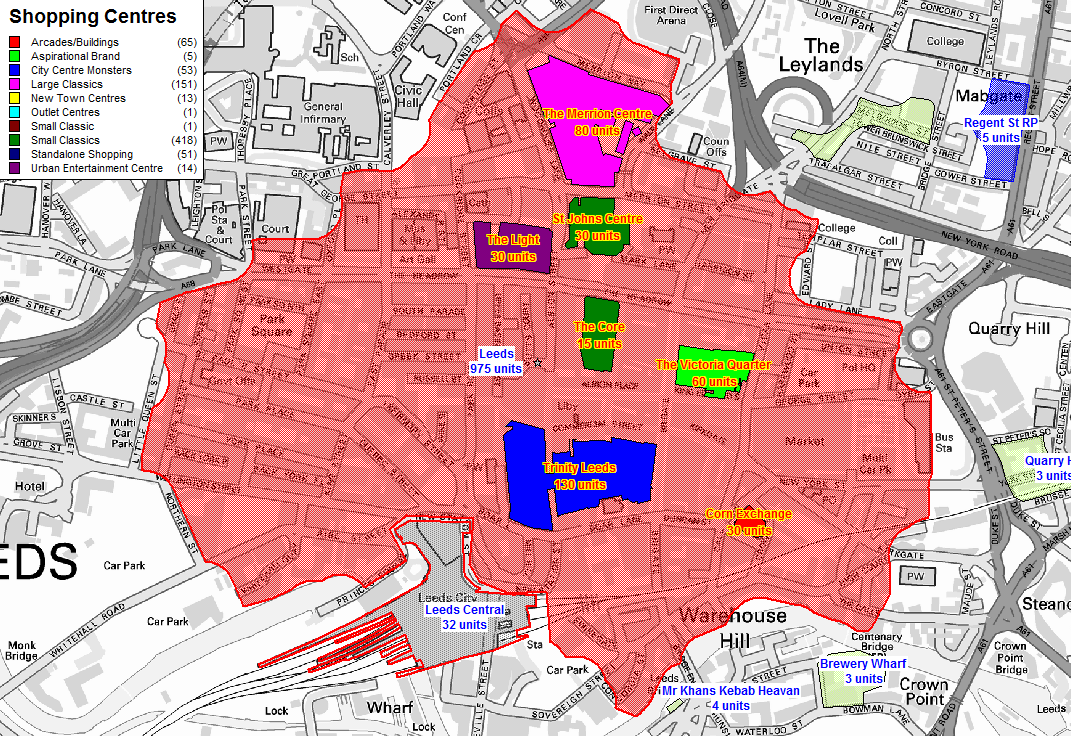 Railway Stations
To address the expanding travel retail sector, 105 of the busiest railway stations have now been classified as a retail place in their own right. Network rail figures alongside footfall data show that millions of people are entering stations without the purpose of boarding a train. Retailers are reporting increases in sales in their station stores which exceed those of high street stores.
Service Areas
250 road services areas have also been newly classified as retail places.
Scoring and Attribution
Over ten different sources of retail data have been combined to overhaul how we score, weight and profile centres. This has been achieved using a mix of increasing amounts of open data relating to retail sites and the generosity of some of our existing customers allowing us to use their internal store and competitor database.
Each centre has been given:
An estimated count of retail units broken down into food/beverage units, financial services, services retail
Overall 'strength' score, as a proxy for weekly shopping spend
Four way classification that make up the retail place – Convenience, comparison, food/beverage/leisure, Service
A Classy to Brassy index indicating aspirational brands vs discounters
Classification
'Planned' retail has gone through significant changes in the updated version. 'Retail Parks' have been split into Shopping Parks, Retail Parks and Leisure Parks. A new retail place type of 'planned urban centre' has been created to capture single destinations with shared parking and covered retail in the same location.
Retail Place Buildings
Thanks to Ordnance Survey releasing their building outlines as open data, our polygons are more accurate and comprehensive.
Retail Places Pitch
Pitch scores is a 10 metre grid structure displaying the varying retail opportunities within retail places through the visualisation of hot spots and gaps within the top 2,413 retail places. Accuracy of the pitch estimates have been considerably improved by using richer input data including a large number of floor space estimates.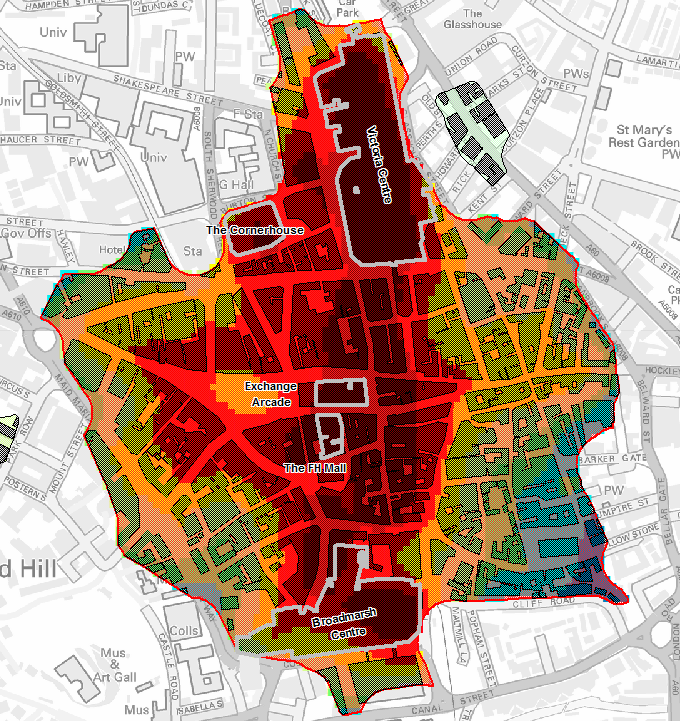 Feedback from our users as well as current trends in retail dynamic form the basis of these enhancements and ensures this popular data continues to be the best available. You can download our retail places open data which consists of the top 350 towns from 2012. This will give you a taste of the potential our full retail places pack could offer you and your business. Enjoy!
Answers
Roath, Cardiff with a staggering 46 units within ~500m
Doncaster (nearest one in the Doncaster Dome Leisure Park, over a mile from the centre)
Leatherhead
Leeds – 7: Trinity, Merrian, St Johns, Victoria Quarter, The Core, The Light, Corn Exchange