The recent announcement (23rd June 2019) that Carrefour China has agreed to sell 80% equity interest to Suning.com, in a cash deal of 4.8 billion RMB, was notable for TWO things.
Firstly, it marked the retreat of one of the first foreign retailers to enter China. Carrefour has been trading in the country for nearly 25 years, and accumulated over 30 million members, with 210 hypermarkets, 24 convenient stores, and 6 distributions centers covering 51 cities (by March 2019) in mainland China.
They've established a truly national coverage across China, from Urumqi to Shanghai, and Shenzhen to Harbin, all with relatively good population and affluence (Chart 1). Their early market entry allowed them to secure some strong locations in the high density urban areas, with a particularly strong network in cities like Shanghai (Chart 2).
Chart 1: Carrefour China Store Coverage – Prefecture (City) Level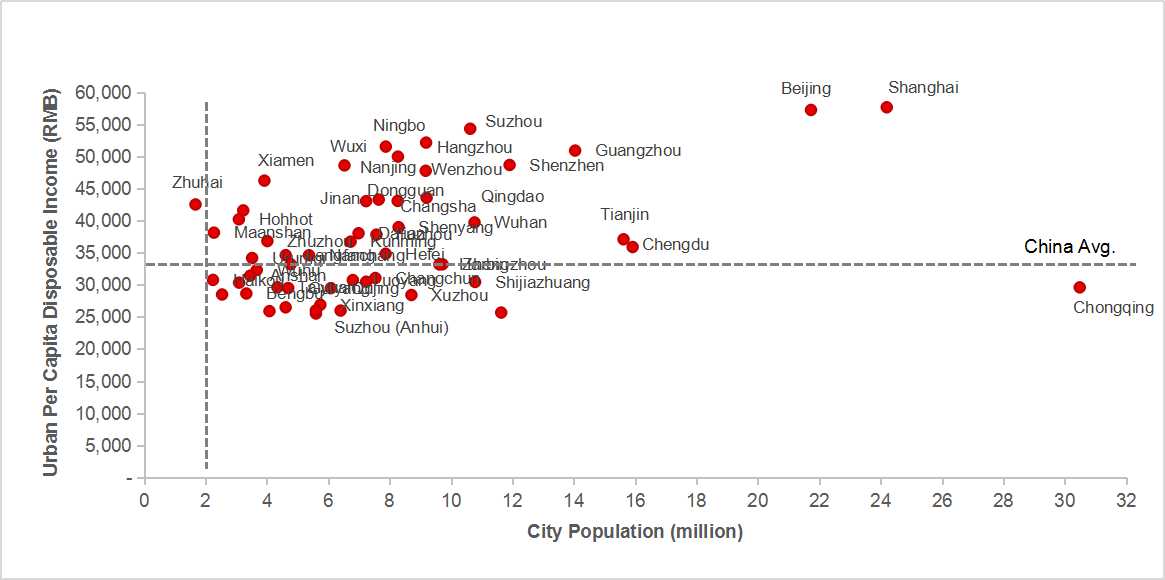 Chart 2: Carrefour Shanghai Store Locations vs. Township Residential Population Density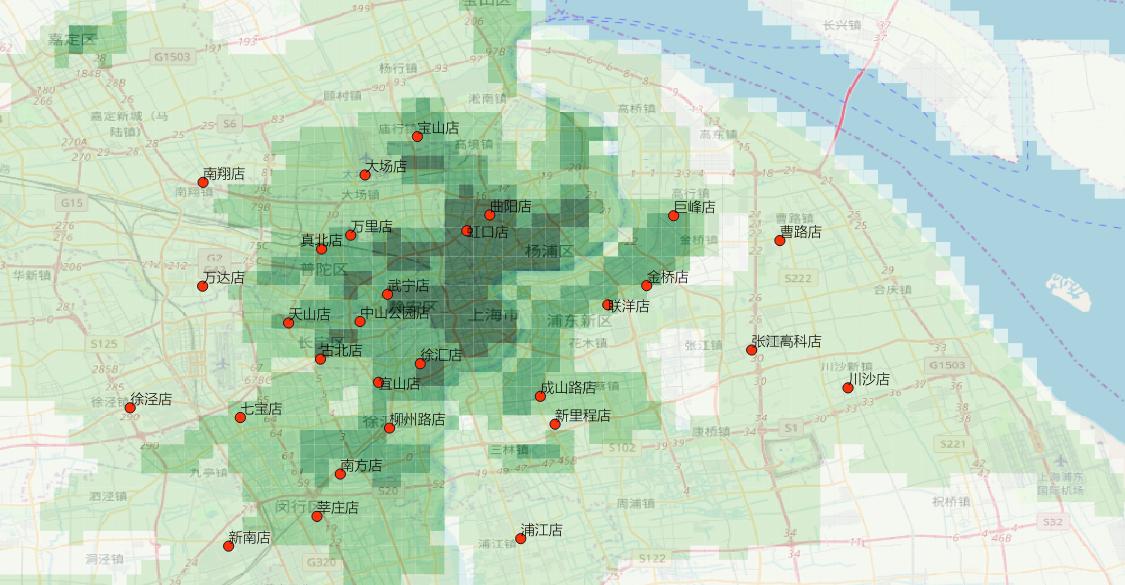 However despite its early success in China, recent years have seen a constant shrinking of Carrefour  business. Actually the traditional grocery market in China has become such a punishing battleground, that 6 out of the top 10 FMCG retailers seeing 2018 sales growth below the CPI growth rate of China this year (2.1%)! (Chart 3)
Chart 3: 2018 Store Growth of Top 10 FMCG Retail Chains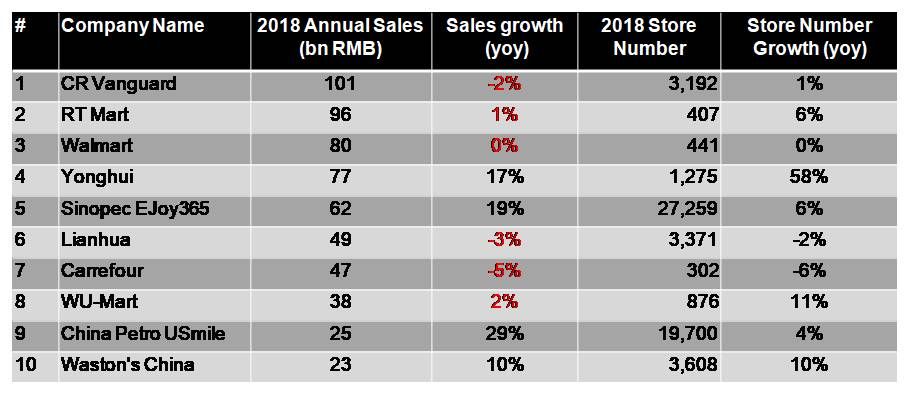 In sharp contrast, among the top 20 FMCG Retail Chains in China, two pioneers of "New Retail/ Smart Retail"- Hema Fresh and Yonghui have both witnessed sharp growth – with physical expansion a key component. In particular, Hema Fresh store numbers have grown fourfold %, sales having increased by 300%, and its ranking surged from #51 in 2017 to #18 in 2018.
Underpinned by investment from Alibaba and Tencent, the integration of technology into every aspect of their business, including the physical stores, has fundamentally changed the grocery landscape in China. Almost every grocery retailer in China is now trying various things to embrace the changing retail environment:. RT Mart, Walmart, Lianhua, ect. – all having forged links with the e-giants, in an attempt to maintain relevance.
The second notable thing about the deal was the further confirmation of Suning's transformation into a "Full-Categories" Smart Retail leader.
Originally an appliance chain, Suning is now a leading omni-channel retailer trading a wide variety of categories, and ranking top of China's Chain Business since 2015. Suning started building its "Smart Retail Empire" in 2017. Unlike Alibaba, who could rely on tremendous consumer/vendor data, logistic resources and experiences from online business to support its organic creation and growth of Hema Fresh, Suning chose to expand rapidly through acquisition.
Over the past 3 years, Suning has invested/acquired over 30 projects/companies, with the total consideration estimated to be over a trillion RMB, and the industries spanning e-commerce, commercial properties, retail chains, logistics, and IT technology. Recent major transactions include:
2018: 100% of Dia China– 300+ small discount stores in Shanghai, over 2.5 million members;
2019: 37 Wanda department stores – mainly in tier 1/2 cities, over 4 million members;
2019: 80% share of Carrefour China.
By the end of 2017, Suning had 3,799 stores nationwide; a year later the number nearly tripled to be 11,064 (incl. convenience stores). According to its official website, the store opening program in 2019 is targeting 15,000!
And behind all of this, are huge inputs into research and development on technology: big data, cloud algorithm, IoT, and AI, etc. By the end of 2018, Suning has employed c. 10,000 IT staff!
Yet how will Suning tackle the integration of existing and future store network? How will they balance between consistency and diversification? How to avoid cannibalization? What creative solutions will Suning bring to the asset of Carrefour China's physical space and member system?
And which bricks and mortar business will become the next target for the e-giants to fight for?
The whole retail universe will keep watching…