On Friday 5th November, 10% of Geolytix qualified as Mental Health First Aiders, with The Blackbox Approach. An intensive two day course covering all the basics, arming the attendees with knowledge, skills and confidence to offer support and assistance to those who may need it. Whilst initially Donna, Kate, Rachel and Josh attended the course to provide support for the Geolytix team, it quickly became apparent that their newly acquired skills could (and would) be used outside of work too. Below, the four speak a little about their experience of the MHFA course, and how, as a team, they plan to support a safe working environment at Geolytix.
Donna
Mental health has always been important to me. Not just my own but that of others. Whilst there is still some stigma surrounding mental health this is definitely reducing and there is a lot more awareness surrounding the topic. I have learnt over time that the only way to understand - or at least try to - is to arm ourselves with knowledge and empathy when we hear about people struggling or their circumstances.
Geolytix have always been an understanding employer and regularly check in to make sure that everyone is coping; they understand that people's stress levels are different at different times and that day-to-day life, along with workloads, can cause people to feel under pressure.
When my targets were discussed at the beginning of the year, Sarah could see how much mental health and raising awareness around mental well being meant to me; so it was incorporated into my targets that I would do the Mental Health First Aid Course and become a point of contact within Geolytix. Little did I know that within a few months a small team of people within Geolytix who had the same passion around that would come together. Kate, Josh, Rachel & I have really embraced this and we are so glad that we were able to do the course and that we are actively encouraged to build on what we have learnt.
The course we did was just brilliant, empowering us in a way I didn't think was possible from a 2 day course. It taught us about the different types of mental health issues, the language to use when approaching and talking about mental health so that people feel comfortable. It taught us that by asking questions, you actually encourage and give people permission to open up about struggles and we were given suitable next step advice if we found ourselves in a situation that needed it. I really feel that we will use this a lot, not just in the work environment but in life too. I am so grateful I was given this opportunity.
Rachel
There are so many reasons as to why someone would choose to train as a mental health first aider. My main motivation was to help reduce stigmas and breakdown outdated stereotypes surrounding mental health, but to also raise awareness of mental health issues and ensure mental health is given the same attention as physical health. I believe that with greater awareness people will not only be able to better understand their own mental health but will feel more comfortable talking about it and seeking the appropriate help and support.
Through my own personal experience with poor mental health, I know how much of a struggle it can be to open-up and ask for help. However, having someone there to listen to me non-judgmentally was a huge help and with this training it has made it easier for me to now be that listening ear or to signpost professional support. We are not experts or counsellors, but just like physical first aiders, we are here to be the first point of contact to help. I know that the knowledge and skills that I learnt from this course will make a massive difference in both my work life and personal life, and that is invaluable to me.
The Geolytix Mental Health First Aider's have a vast range of ideas that we would like to implement over the coming months to help colleagues to address their mental wellbeing. I am really looking forward to launching our '12 keys to happiness' platform, where a different skill or hobby will be shared each month allowing the team to take some time out for themselves to learn something new.
Josh
I've been passionate about learning about mental health ever since I first ran for Welfare Officer in my local physics society at university, and I was very excited to be able to take part in the MHFA training on behalf of Geolytix. As we're a rapidly growing company, I felt it was extremely important for me to be able to help support the mental health of both current and future colleagues, and ensure that everyone feels that they are able to speak up, either publicly or privately, if they were experiencing a mental health issue.
The course itself was by no means exhaustive (there's only so much you can cover in two days!) but I felt it gave us an excellent grounding on how to best offer help during an immediate mental health crisis, as well as how to support the people around us over a longer period of time. I'm particularly looking forward to developing and curating a list of resources to make available to the team, culminating in running some fundraising events in Mental Health Awareness Week next May.
Kate
Coming from a hospitality background, where the attitude surrounding mental health and the support I was offered was notoriously bad, it has always been important to me to learn about mental health and how I can offer support and guidance to those who need it - including myself. So when Geolytix offered for us to go on a Mental Health First Aid course, I jumped at the opportunity.
I joined Geolytix during the Christmas lockdown 2020/21, instantly going from working in a bustling restaurant, to a makeshift desk in my kitchen. I didn't meet the team in person until July; 7 months of Basecamp messages and google meets, that were all work orientated. I didn't know anything about my team on a human level, and that really took a toll on me. Working from home can become quite isolating and affects your mental health. The first half an hour of the MHFA we spent introducing ourselves, but instead of saying our name and what our role is, we were asked 'what's the view out of your window and a positive thing that has happened to you recently'? This stuck with me the whole two days; I felt I had connected with the group on a human level, not just our work-selves.
I am very excited to be part of the Geolytix Mental Health First Aid team, not only being there to offer support, guidance and that all important ear to listen, but also break down this stigma society has built around mental health. I am fortunate to work for a company that has not only embraced but encouraged learning around mental health, and we have some fantastic plans in place for the new year. I am particularly looking forward to starting the 'Humans Of Geolytix' weekly drop-ins, 30 minutes where we can jump on a call together and talk about anything other than work - what we did on the weekend, what book we're reading, or a tv series we've just started… essentially what makes us human.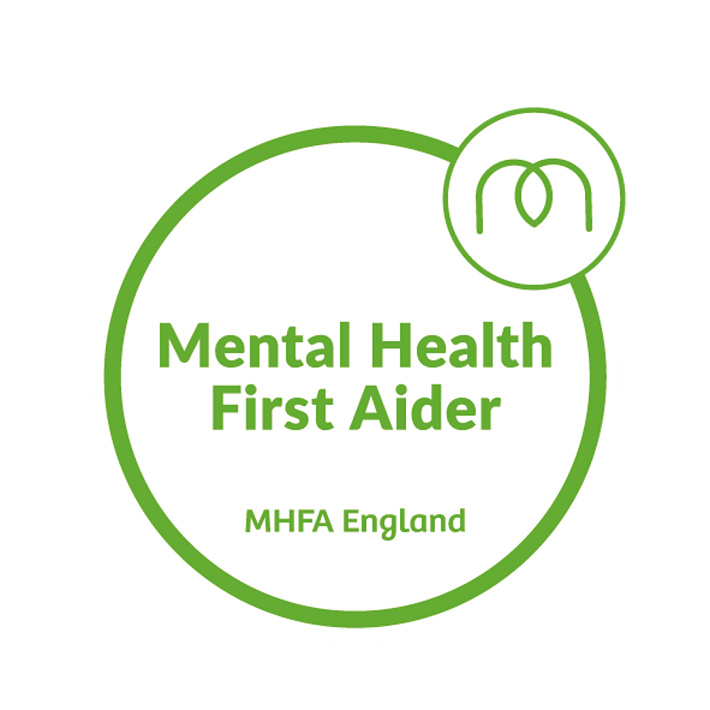 Donna Kirkton, Office Executive at Geolytix
Rachel Wyles, Associate at Geolytix
Josh Reynolds, Data Scientist at Geolytix
Kate McGoldrick, Communications Officer at Geolytix
Photo by Marcel Strauß on Unsplash