I have been thinking of writing this blog for a while but having recently become an owner of a Tesla and experienced first-hand the transformation from a gas station user, to a fan of supercharge stations, I think I am now qualified to share my thoughts.  
No doubt, the best way to fuel an E-Vehicle is to charge it like charging a cell phone; every night when you arrive back home, just plug it in. But this requires home-charging equipment, which is unfortunately a bit tricky for me (due to a lack of access to electricity power and car park condition). However, after some extensive research I came across Tesla Supercharge Stations, considered the "world's fastest charging network". The 30-minute charging session provided at these Supercharge Stations can almost solve my lack of charging facilities at home.
Thus, in late July 2020, my journey of "no need to make my way to gas station anymore" started. After several weeks of considering and comparing, I purchased a Tesla Model 3 E-vehicle; my first car.
Tesla Supercharge stations are designed especially for Tesla vehicles, providing high voltage and electricity when charging, enabling vehicles to get enough power in a relatively short time (compared to normal charging speeds). Although this process still takes a bit longer than fuelling up by gas, it can also be a perfect time period for drivers to take a short break, have a cup of coffee or even finish grocery shopping.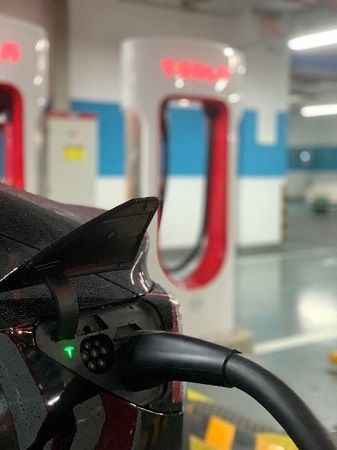 Thanks to my experience of being a network planner at Geolytix, I took a close look on Tesla Supercharge station locations in the city I live, Shanghai: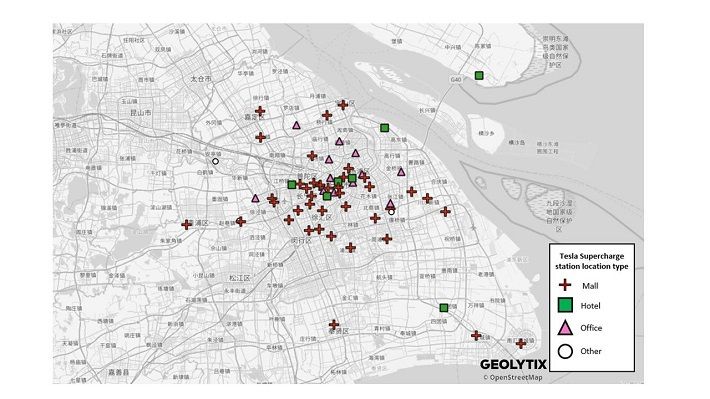 From the Supercharge station distribution we can see 4 location types are mainly covered: Mall, Office, Hotel and Other. In Shanghai, more than 65% of the Supercharge stations are located at malls, and nearly 20% are in the car park of office buildings or industrial campus. In fact, Tesla recently launched the world's largest Supercharging Station in Jing'an International Center (Shanghai), a 72-stall covered facility.
In a city with a fast paced lifestyle like Shanghai, I would say cars fuelling up and daily routine activities happening at the same time can be a smart strategy; no need to plan an extra trip to refill your vehicle!
Besides, all the "Mall type" Supercharge Stations are located in Geolytix Retail Venues. Referring to the Geolytix Retail Place, we can also see to what extent Tesla Supercharge has covered the city's trade zones. I believe in the near future, with more and more consumers tending to choose the eco-friendly lifestyle, E-Vehicle charging stations will play an important role when we evaluate the facility and attractiveness of a mall, especially in the heart of the big, crowded cities.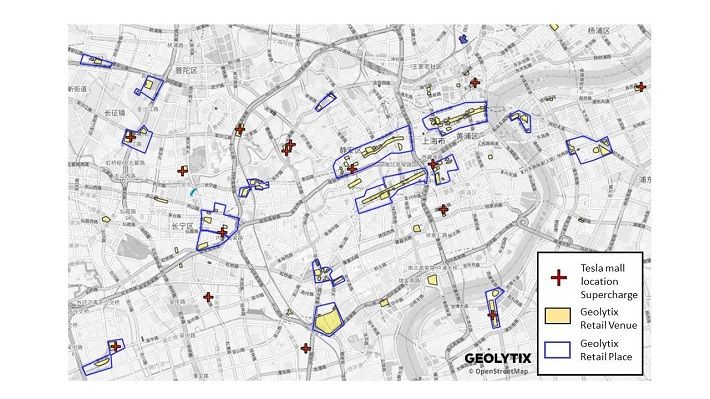 Generally, with my curiosity still existing after 4 months, I still feel this transformation of routine a great experience. Although it is not as quick as gas refill, to take a short break and let the cup of tea or coffee fuel you up while the vehicle is fuelling up, I would say it's not a bad idea!
Thanks for reading!
Lifan Zhang, Location Analyst at Geolytix
Image: Authors Own