Blossom in the Year of the Tiger
Coco discusses Chinese New Year traditions, and the slight alterations made throughout the pandemic.
26th January 2022
Red Lantern, couplets, paper cutting, cheerful "symphony" with the lyrics of "Gong Xi, Gong Xi"…when you stand on a Chinese street and sense all these elements hugging you - congratulations, you are now entering the biggest annual party of China – the Chinese New Year, also called the Spring Festival.
In the city where I live, there's a very special ceremony during the Chinese New Year; I struggle to get a short catchy translation for it– "Haang Faa Gaai", which basically means to walk along the flower street/ market.
Unlike North China, where people get out on the first day of Chinese New Year to hang around the "temple fair", the Cantonese in South China kick off the "flower market fair" about one week before the Eve. In Guangzhou particularly, the event of "Haang Faa Gaai" starts only two days before the Eve.
Every district has its own flower market - temporary fairs converted from some of the busiest retail streets, sports grounds, or outdoor parks.

Just like the Christmas tree is a vital part of Christmas in the western world, three key plants have been leading the decoration of Spring Festival for Cantonese:
Peach Flower
Kumquat
Daffodil
Each symbolizes a different thing, such as Love, Wealth and Health.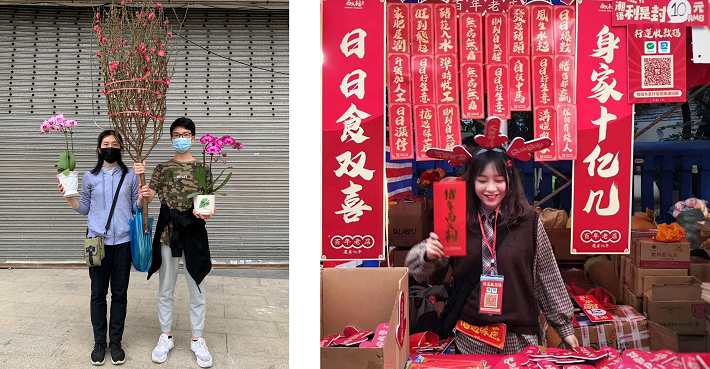 To have a strong energetic plant(s) at home matters so much, as it is relevant to the luck of the whole year! Ideally, you'd want to be there in the market, comparing the flowers/plants shop by shop, bargaining with the vendors patiently and nicely, maybe also taking pictures with family members or friends on the way. Occasionally, you may spot the younger son of your neighbour sitting there waving to you- this is as it's also a venue allowing the young students to participate in social practice.
I still remember one year the flower street was so busy and noisy, I lost my friends in the crowd. When we finally met up again and wanted to retreat from the crowd, it was too late…
Literally we walked from 2002 to 2003!
Like many other consumer goods, flowers and plants are also available online nowadays. "The Flower Markets in the Cloud" was initiated in Guangzhou last year responding to the Covid New Normal. Each district has built its own wechat mini-program to promote the flower business. The previous centralized flower streets/markets by districts have evolved as multiple mini markets scattered around communities. Some districts even developed their own "Map of Flower Markets", with the contacts of registered flower operators and payment links attached. You could easily drop by the one close to your neighbourhood for an onsite selection, ask for a delivery, or simply click and collect. This is more a kind of offline-to-online choice comparing to shopping directly from the traditional ecom platforms.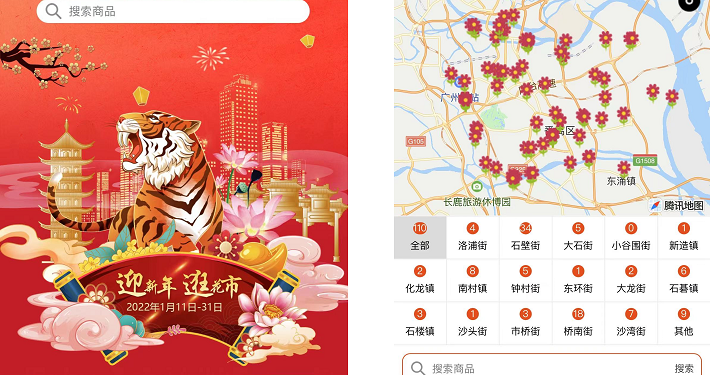 At the start of the pandemic, there was a lot of concern and panic about what if people all moved online. However, two years later it has become clear that human beings are not easily satisfied with living solely in a virtual world. Over the past two years, Geolytix has worked with our clients to analyse, quantify, and forecast the evolvements of retail post pandemic, particularly around online offline interaction. It's such a wonderful thing to experience and explore all the changes and possibilities.
With the excitement of opening the Year of Tiger, we are also expecting the full blossom of the O2O retail world, and to share more insights and learnings ongoing with our customers: Gong Xi Fa Cai!
Coco Lin, Project Director at Geolytix
Title Photo by Humphrey Muleba on Unsplash
Related Posts
27th July 2022

Six years ago we had a team social to a newly opened Shuffleboard club called LondonShuffle. We were delighted to support them recently with some location data and analysis.

23rd February 2022

At last, time to dust off the trusty Geolytix tote for my first overseas adventure since the start of 2020. Where's Lou goes international... my first destination: Porto, Portugal's 'second city'.

30th November 2021

Gagan Singh Virk joined us in October on a work experience placement from NewVic college. Here he details his week with us...