GEOLYTIX has a long-standing relationship with the Co-op through retail location analysis and support, but in 2017 we embarked on a new collaborative journey to build the first measure of Community Wellbeing at a local level across all four nations of the UK. This unique index (updated in November 2019) encompasses GEOLYTIX GeoData, open data and Co-op Member participation data, and is underpinned by primary research conducted by the Young Foundation in 15 communities across the UK.
The Co-op is the UK's largest consumer co-operative, with 4.6 million active members and a presence in every postal district in the country, with around 2,500 food stores and 1,000 funeral homes. It is a member-owned organisation with a clear social purpose that exists to create value for members and the communities in which it trades. One way in which this is demonstrated is by 1% of Co-op member spend on Co-op branded products being given to local causes through the Local Community Fund, as chosen by members. These causes are at the heart of the local community, which can range from libraries and community centres to bereavement support groups or sports and music clubs.
The Index was created to help share the Co-op's community campaigns and strategy, providing data-driven insight into where the greatest differences can be made. The primary research, conducted by the Young Foundation, identified nine key areas: 1. Education and learning, 2. Culture, Heritage and Leisure, 3. Relationships and Trust, 4. Health, 5. Transport, Mobility and Connectivity, 6. Equality, 7. Economy, Work and Employment, 8. Housing, Space and Environment and 9. Voice and Participation. The Index is used to help to understand what communities need most, whilst at the same time actively encouraging them to get involved to help make their community stronger.
Unlike most other measures of Wellbeing which exist at Local Authority District or Regional level, the Community Wellbeing Index – as the name suggests – has been built at the Community level. As there are no geographical definitions of communities, the Index harnesses the GEOLYTIX Seamless Towns and Suburbs boundaries, designed to reflect local neighbourhoods, of which there are over 28,000 across the UK. An overall Wellbeing Score has been calculated for each of these individual communities, which is further broken down into nine separate scores covering the key areas. This will consequently help to support funding decisions, prioritise resource and benefit some of the most disadvantaged residents in the UK.
To illustrate this point, if we enter the postcode of the GEOLYTIX office in Kings Cross, London into the Co-op Community Wellbeing Index, we get the following: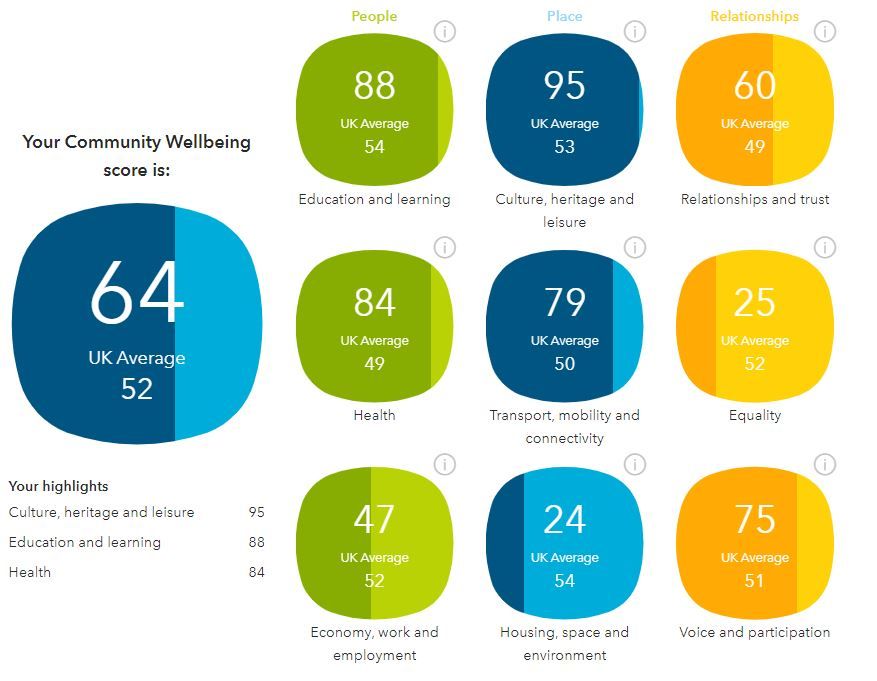 This tells us that the community is slightly above the national average overall and is particularly strong on "Education and learning", "Culture, heritage and leisure" and "Health". However, where it under-indexes most is "Equality" and "Housing, space and environment". Given the prevalence of homelessness in the area alongside the influx of luxury apartments to house the tech-giant workers, the index reflects the area well. The wave of gentrification that swept across Kings Cross in recent years, like many other places across London, has undoubtedly created large inequalities within the area, as the Index suggests.
We hope the Community Wellbeing Index proves a useful guide for driving evidence-based action in communities, in ways that will have positive consequences on local areas. So far it has gained significant interest from a wide range of audiences outside of the Co-op, from local councils to charities to academics…and we expect this list to continue to grow.
So, why don't you take a look at the Wellbeing of your local area and let us know if you agree?
For more information, including how the Index communities link to other admin and statistical geographies please get in touch.