Founded in London 1778, after years of struggles the impact of COVID-19 finally sealed it's fate after 242 years. Bought by Boohoo group, the brand lives on but now only trades online. Physical presence of Debenhams ended in May 2021 leaving behind large empty units on High Streets, Retail Parks and in Shopping Centres.
Debenhams Locations
Debenhams were located on High Streets and Shopping Centres in City, Town & Urban Centres, Retail Parks and standalone Shopping Centres.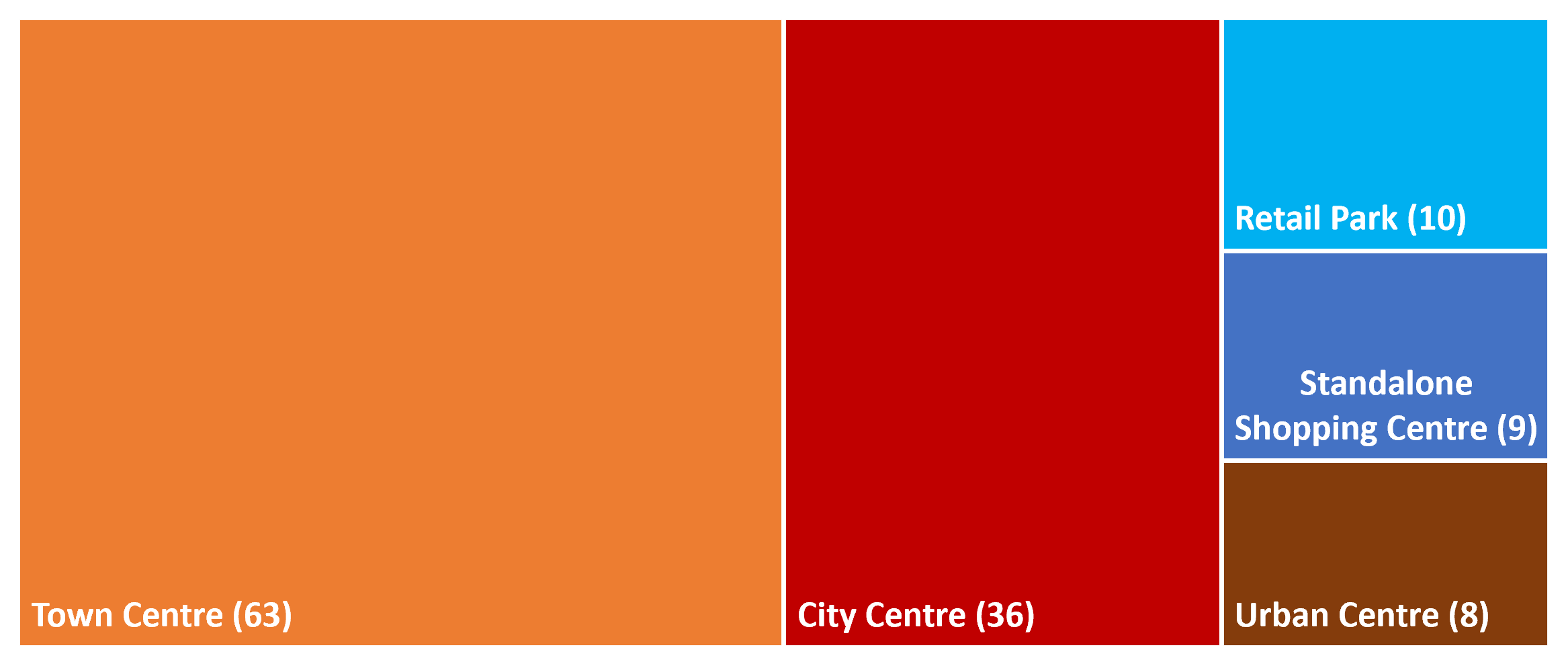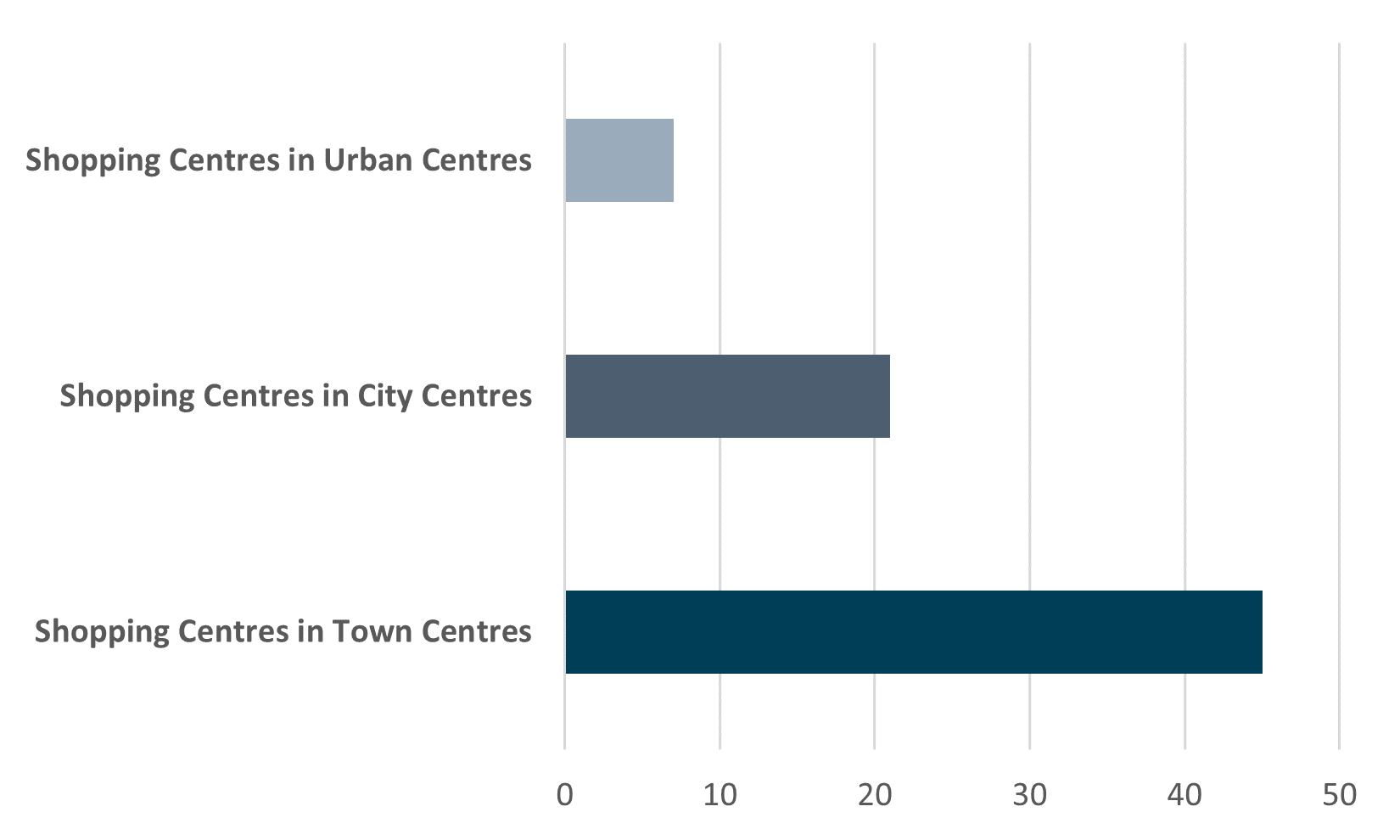 The final closures affected 114 towns.
London, Edinburgh, Glasgow, Leeds, Manchester and Sheffield were the hardest hit cities losing 2 or more Debenhams from their retail offer and leaving big empty units behind left to fill. Of these 56% are still vacant. The larger the town the higher the vacancy rates.

We reviewed 126 Debenhams units which closed across 2020 and 2021
Research shows there are lots of plans in place for many of these still empty spaces, with some already in use. Strategies include retailer relocations, new stores, redevelopment into flats and change to leisure use for these units which became vacant from May 2021. However vacant is still the dominant position.
Summary of uses
There is some commercial risk and only certain occupiers are interested in units of this size with multiple floors. Mixed-use redevelopment of upper floors to residential and workspace conversions can be desirable leaving smaller square footage to lease on the groud floor to retail & leisure in order to maintain frontage in the retail places.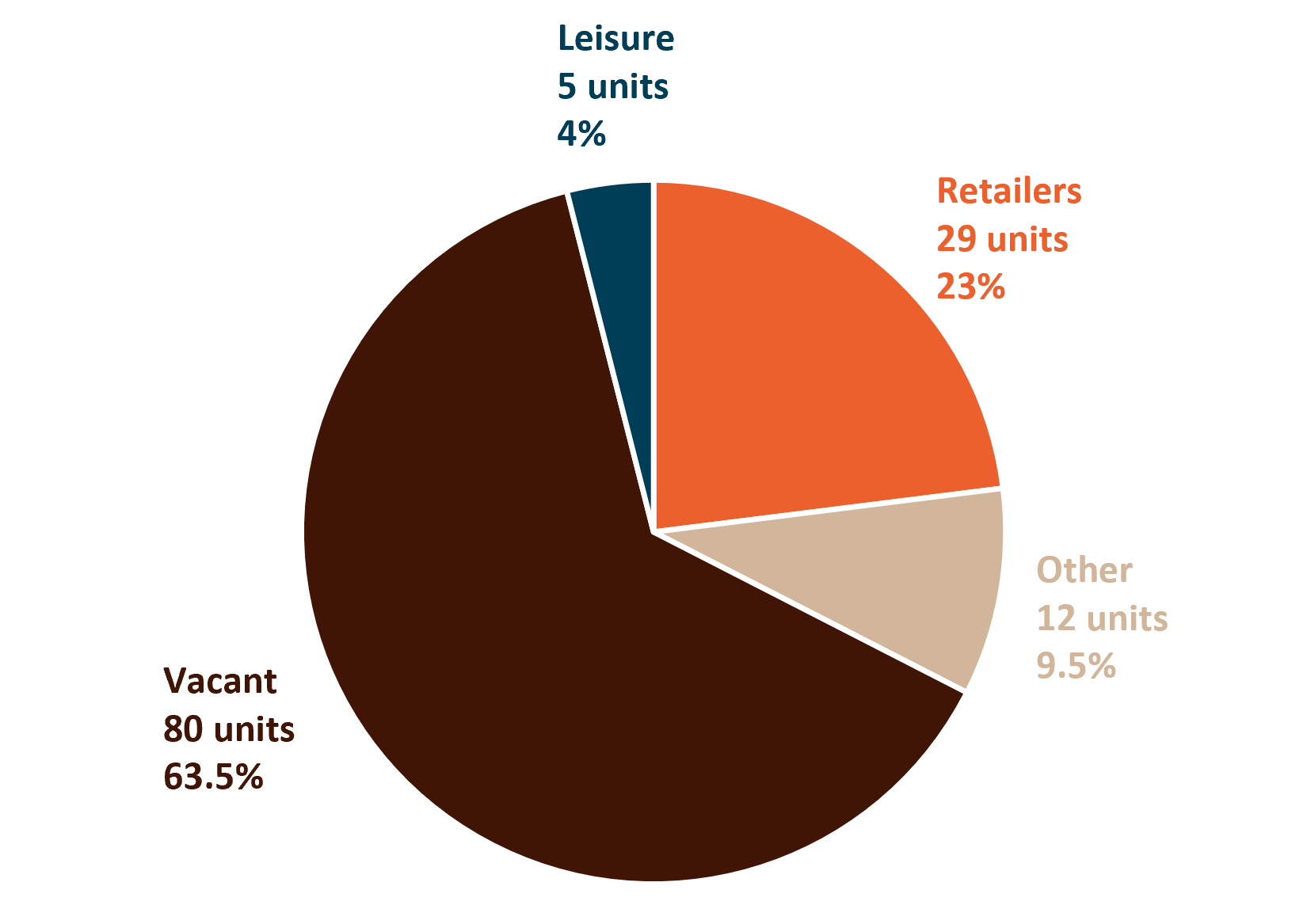 Average monthly footfall is higher in the Retail Places of the vacant units (46,000) vs those which are due to or already being occupied (37,500). This makes sense when relating back to the bigger towns and stronger retail places which can demand higher rents, if willing to take the plunge the footfall could be exploited.
Summary by Retailers
Some brands have taken the opportunity to open in new locations or relocate from existing, primarily to benefit from the larger unit.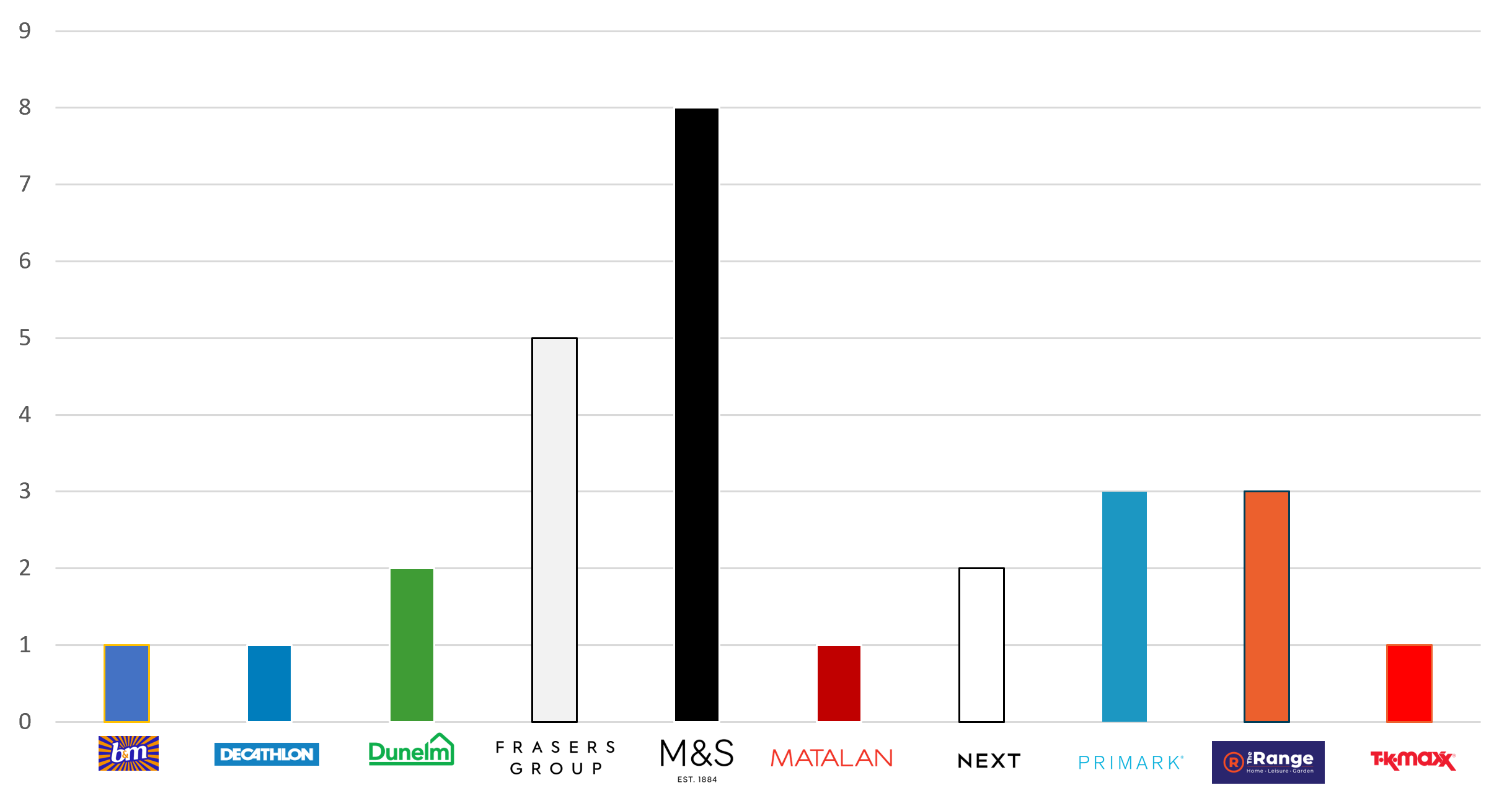 Marks & Spencer lead the way having either occupied or with plans to open in 8 of the former Debenhams units. In May 2022 they opened on Retail Parks in Stevenage and Llandudno followed by Chesterfield in the November. Leeds White Rose relocation welcomed shoppers in May 2023, with Liverpool One opening later this month (15th August 2023). Birmingham Bullring, Manchester Trafford Centre and Lakeside Shopping Centre relocations set to be ready later in 2023.
Dunelm took advantage and relocated from the Rugby Central Shopping Centre they previously operated in to the empty unit on Elliotts Field Retail Park. Workington will welcome TK Maxx this month (August 2023), local shoppers would have previously had to travel 32 miles to Carlisle to bag their fashion and home bargains.
Full details of which retailers have taken which units below.
Summary by Region
This map shows the number of Debenhams units which were left empty and the percent of those which are still vacant, as of July 2023*. Vacant could mean there are plans submitted to utilise these but for now the retail landscape is faced with a blank frontage.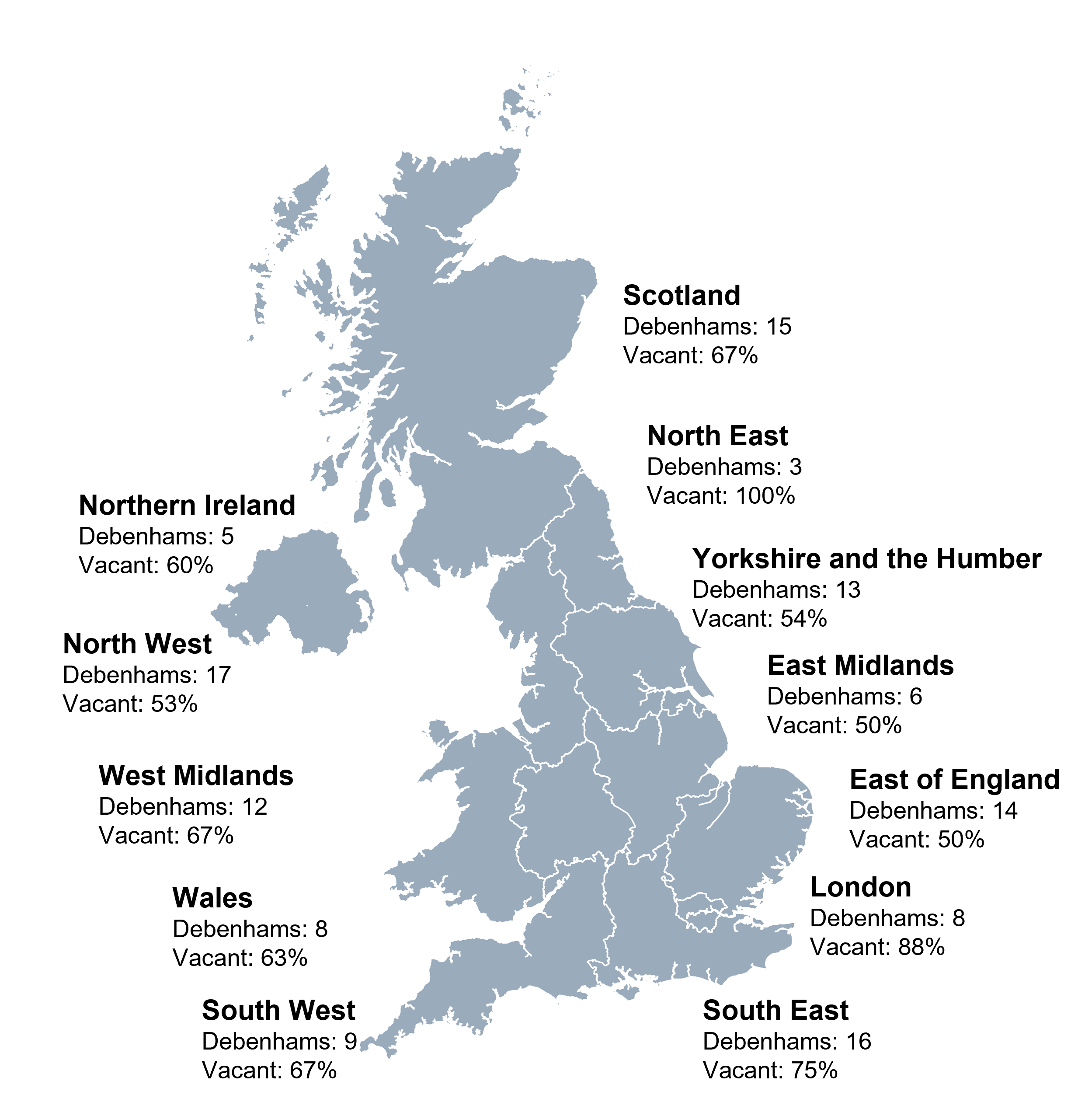 List of the 126 stores which closed in 2020 and 2021 which we analysed
From mini hospitals to flats, the empty units are being utilised for an array of activities. While some maintain a retail occupancy, many are still vacant or are in the pipeline for redevelopment. The 15 Debenhams in Scotland did not reopen at all after the lockdowns.
Aberdeen - Temporary cancer research charity shop which opened in September 2022
Ayr - Temporary job centre
Ballymena - Vacant
Banbury - As of May 2022 it was used by volunteers of humanitarian aid for Ukraine crisis
Bangor (Wales) - Vacant
Barrow-In-Furness - Bought by defence giant BAE Systems
Basildon - Recently annouced Mini hospital planning to open; Basildon Health Centre
Basingstoke - Vacant
Bath - Vacant. Plans for ground floor retail and either lab space for life sciences or offices above
Bedford - Vacant
Belfast - Vacant. Plans for 2 new tenants, one being the Omniplax Cinema Group. Flagship Starbucks due to occupy a unit in the Castle Court Shopping Centre
Beverley - Dunelm opened in December 2021
Birmingham - M&S opening later in 2023. Update Nov 2023: M&S opened their 68,000sq ft store on 7th November 2023.
Blackburn - Vacant
Blackpool - Frasers have taken the unit with Flannels and Sports Direct set to open later in 2023
Bolton - Primark relocating from Crompton Place, aiming to open end of 2024 or early 2025
Bournemouth - Bobby's department store
Bradford - Vacant
Brierley Hill (Merry Hill) - Vacant as of August 2023. Update Nov 2023: German brand XTRAFIT are set to open next summer (2024).
Brighton - Vacant as of August 2023. Previously used as a COVID-19 vaccination centre in August 2021. Update Nov 2023: Ikea store expected to open within two years.
Bristol - Vacant. Development plans for plans 'Barr Street Bristol'
Broadstairs - Work is due to start on the site from July 2023 with plans including 22 ten-pin bowling lanes, hoping to open in the autumn. Update Nov 2023: Still on track but delayed, new target date to open is May 2024.
Bromley - Vacant
Bury - The Range opened in November 2021. This was the retailers 200th store across UK & Ireland
Bury St. Edmunds - Primark & Everyman cinema
Cambridge - Vacant
Cardiff - Vacant (Landsec have bought they site meaning they now own 100% of St David's Centre)
Carlisle - Vacant
Carmarthen - Plans for Carmarthen Hwb, a wellbeing and cultural centre
Chelmsford - The Range, opening this summer (2023)
Chester - Vacant (bought by Martin Property Group)
Chesterfield - M&S opened Nov 2022
Colchester - Vacant. Plans approved to change from retail to leisure including Putt Putt Noodle mini golf course, Boom Battle Bar and Flip Out trampoline park
Coventry - Iceland have taken 20,000sqft of the ground floor which opened January 2023. One Beyond have taken 10,000sqft of the ground floor. The Job Centre and Toy Town have taken a split of the first floor. The top floor will be open in 2023 Q4 - a ten pin bowling and adeventure golf and adult gaming centre. (Wrongly classified as vacant on original post**)
Craigavon - Primark which opened in Dec 2022
Crawley - Vacant
Derby - Frasers
Doncaster - Vacant. Plans for a cinema although residents unsure the city, Doncaster received city status in 2022, needs 3 cinemas
Dumfries - Vacant
Dundee - Vacant. Frasers Group owner Mike Ashley bought Dundee's Overgate Shopping Centre so assumption would be one of the subsidiary brands will go into the empty unit
Dunfermline - Vacant. The unit has been subdivided with apparent active interest in half of the former Debenhams
Edinburgh Princes Street - Hotel
Edinburgh Ocean Terminal - Temporary creative community hub 'The Wee Hub'. With future plans to demolish and redevelop into a mix of leisure and retail with a hotel, restaurants and shops
Ellesmere Port - Next planning to relocate
Exeter - Vacant with plans for a new cinema
Falkirk - Vacant
Fareham - Vacant
Glasgow Silverburn - Next beauty hall concept
Glasgow St. Enoch Centre - Vacant with plans for it to be turned into offices with a rooftop restaurant
Glasgow East Kilbride - Vacant
Gloucester - Vacant. Redeveloping into a campus for the University of Gloucestershire
Gravesend - Vacant
Grays (Lakeside) - M&S relocation, opening later in 2023. Update Nov 2023: M&S opened their 97,000sq ft store on 15th November 2023.
Guildford - Demolished for flats
Harrogate - Vacant. A plan to demolish the store on Parliament Street has been withdrawn
Harrow - Vacant (again). The Landmark department store which opened 21 months ago closed in January 2023
Hastings - An indoor adventure park with crazy golf, amusements and bowling opened in November 2022
Hemel Hempstead - Vacant
Hereford - Vacant. While the upper floor changed into offices the Vacant ground floor is now under offer with the empty neighbouring Paperchase unit.
Hounslow - The Loft operate a restaurant with some space of the building still vacant
Hull - Vacant
Ilford - Vacant
Inverness - Vacant
Ipswich - Vacant. New owners now redeveloping staring with a new roof
King's Lynn - Building flats
Leeds Briggate - Flannels tipped to be opening
Leeds White Rose - M&S relocation, opened May 2023
Lichfield - Plans for a four-screen boutique cinema
Lincoln - Vacant
Liverpool One - M&S relocation, the store opened 15th August 2023
Livingston - Vacant
Llandudno - M&S opened March 2022
Llanelli - Matalan
London Oxford Street - Vacant. Plans to extend and have 3 floors of retail space with offices above
Londonderry - Frasers
Luton - Furniture store VFM opened
Manchester Trafford Centre - M&S relocation, opening 30th November 2023
Manchester - Vacant. Grade II listed building to be turned into a mixed-use development with an extension to allow retail, leisure, office space. Expected to be complete in 2025
Mansfield - Vacant
Middlesbrough - Vacant
Newbury - Vacant
Newcastle - Vacant
Newport - Vacant
Newry - Vacant
Northampton - Demolishing for student flats
Nottingham - Vacant
Nuneaton - Vacant. Plan to demolosh the building
Oldham - Vacant
Oxford - Vacant
Perth - Vacant
Plymouth - Vacant. With plans to be transformed with over 160 new flats shops & cafes
Portsmouth - Vacant. The initial planning application for a 38-storey skyscraper in Portsmouth has been withdrawn.
Preston - Vacant
Redditch - Vacant
Romford - Vacant
Rugby - Dunelm relocating from Rugby Central Shopping Centre
Scarborough - Vacant. Scarborough Group International who acquired The Brunswick have plans to create a new leisure-led destination, based around a modern, high-quality cinema
Scunthorpe - B&M who are already on the retail park are relocating to the bigger unit
Sheffield - Vacant
Sheffield Meadowhall - Vacant. Plans for Frasers to take the unit
Southend-On-Sea - Utilize Project to create a new bustling home for small businesses and organisations opening up 5th August
Staines - Vacant. In a battle between knocking down and redeveloping into flats and applying listed building status
Stevenage - M&S opened in April 2022
Stirling - Vacant
Stockport - Vacant
Stoke-On-Trent - Vacant
Sunderland - Vacant
Sutton - Vacant
Swansea - Vacant
Taunton - Vacant. Plans to redevelop into flats scrapped earlier this year
Telford - Plans to open Flip Out trampoline park and Putt Putt Noodle, Pan Asian Themed Adventure Golf
Torquay - Demolishing for new flats
Uxbridge - Vacant
Wakefield - Vacant
Walsall - Vacant
Warrington - Vacant
Weymouth - The Range opened in April 2021
Wigan - Vacant
Winchester - Vacant
Woking - Vacant
Worcester - Vacant. There are stalled plans for a food hall
Workington - TK Maxx opening in August this year (2023)
Worthing - Vacant. Plans for flats
Wrexham - Vacant
York Monks Cross - Decathlon opened October 2022
*These are as accurate as possible using openly available information from research conducted by Geolytix in July 2023.
**Amendment to Coventry unit made 3rd August 2023 after wrongly being classified as vacant.
Department Stores have taken a blow in recent years, the floundering House of Fraser, a string of John Lewis closures in 2021 and independents such as the iconic Jenners in Edinburgh closing. From what we can see from the legacy estate of Debenhams it leaves us to wonder what will the face of the high street and the draw of shopping centres look like in the next few years. This feels like a blog in it's own right.
If you are interested to find out more about the Retail Place, Footfall or Town boundary data we used in the analysis please get in contact at info@geolytix.com or through LinkedIn.
Louise Cross, Product Owner at GEOLYTIX
Main Image: Sheffield Debenhams unit sits empty on The Moor. Photo taken by author.
Published: 2nd August 2023. Updated comments on unit list: 17th November 2023