Fig 1: Table showing the weekly Retail Recovery Index across the UK.
One thing is for certain, it's not going to be easy. The list of challenges is much longer this year, many of which will be felt most by those working in store. Keeping customers & colleagues safe, capacity limits, long queues, extended opening hours, heavy discounting, uncertain futures and perhaps the biggest unknown (apart from the weather), forecasting how many customers will turn up.
Here at Geolytix we have been reviewing the ebb and flow of government restrictions to understand how they have affected visits to our retail centres. We do this using our recently upgraded Retail Recovery Index which combines Geolytix Retail Places with mobility data from Unacast.
One key benefit of mobility data is being able to monitor the spatial and temporal dimensions of human behaviour in near real-time. Every day 30m+ GPS pings feed into the Retail Recovery Index allowing us to analyse the vitality of the UK's 22,000 Retail Places. The table above aggregates this output to a regional level but the same can be done for smaller geographies such as Local Authority Districts, Retail Places & Venues and even at a store level.
Forecasting footfall is difficult at the best of times and this year is far from the best of times. Footfall drives spend, it means having the right volume of stock in the right place and the right number of colleagues to sort, stack and serve. In many sectors there has been a seismic shift to online already this year, so what is left to play for? How will the remaining spend be distributed by region or venue type? Will we see trends of localisation continue? What will additional local restrictions mean? How will the destination shopping centre fair vs. the major city centre vs. the village centre? Can we learn anything from what happened following the first lockdown, or perhaps after the Welsh firebreak?
Recovery in Wales dropped by 20% during their Firebreak and similar declines have been observed in many of the English regions during Lockdown II. Last week the Welsh recovery was hovering at levels last seen in July, prior to the Eat Out to Help Out scheme but will the proximity to Christmas intensify recovery in England beyond anything we have seen since the start of the outbreak?
The graphic below compares some of the UK's biggest out-of-town shopping centres. Glasgow Fort plummeted last week following tighter local restrictions in Scotland's '5-tiered' system whilst Castlepoint in Bournemouth has remained more resilient. This is a perhaps a consequence of having three 'essential' grocery stores as anchors (Sainsbury's, Asda and M&S).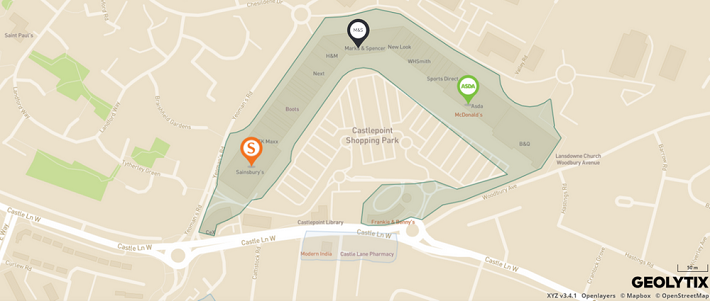 The remaining weeks of 2020 will provide some fascinating insight to conclude an extraordinary year. They may also offer up some clues about what could be in-store (or online) for 2021.
One thing is for sure, the dynamism of the retail industry continues to be striking. One particularly prominent example this year has been the rise of the delivery aggregators such as Just Eat, Deliveroo & Uber Eats. It has been hard to miss the delivery drivers let alone the 'Did Somebody Say…' advertising campaign. This week Just Eat launched their Christmas ad which may just epitomise the run-up to Christmas in 2020.
"Ain't nothin' changed here
Gettin' sushi delivered by a reindeer
Most wonderful time of the year
It's a "Just Eat anything" vibe over here"
Have a safe December all.
Tim Pickworth, Associate at GEOLYTIX