In just a few short years Geolytix have grown from a business almost entirely focused on the UK, to one that has successfully delivered projects in over 50 countries, from Australia to Azerbaijan and Mexico to Mongolia, for a number of global clients across a diverse range of retail sectors.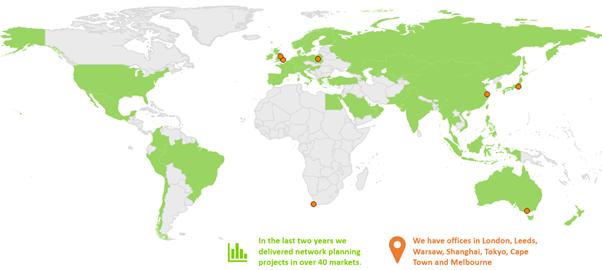 As these clients are themselves global organisations it has been critical that we develop the capability to be able to support them in every corner of the planet with data, models and tools that provide a consistent basis for supporting critical investment decisions, even in markets where the data environment might be challenging.
So how have we done it?
GLOBAL VS. LOCAL
Consumers everywhere in our increasingly globalised world have the same basic wants and needs and are faced with a growing array of retail options that exist to fulfil them. Despite this every market is uniquely different, but from a network planning perspective we find they tend to be different in consistent and predictable ways. We develop our models to be flexible enough to handle the critical dimensions that we know can differ, including the mix of travel modes, market densities, channel structure and preference (physical vs. digital, but also mall vs. street retail for example).
BEING CREATIVE WITH DATA
Working in markets like the UK or Japan where data is abundant, complete, and up to date can spoil us; in many markets around the world data is often none of these things. This doesn't mean that you can't build a spatial model or generate a network blueprint (in fact its often these markets where our clients need most help), but it increases the need for creative use of substitutes and proxies for official data, as well as increasing the value of global datasets such as mobility data.
An example of a proxy might be using residential property price data to generate a market-wide affluence index in the absence of any other sources of data relating to wealth. It may mean focusing more on the supply-side if we lack detailed intelligence on the demographic structure of an area – what does the density of international schools, spas, high-end car dealerships tell us for example?
Mobility data has been a game-changer in this regard. As coverage and penetration improves everywhere mobility data allows patterns of consumer activity to be understood, workplace and tourism hotspots to be identified, and catchments reflecting real-world consumer flows to be defined virtually anywhere in the world. An additional benefit of mobility data is that it is available in near real-time, which can be invaluable when trying to make sense of a world undergoing changes because of the coronavirus pandemic (that may or may not persist long term).
OUR TEAM
Finally, the Geolytix team, our greatest asset by far. We strive to nurture an international mindset and to operate as a single global business regardless of physical location (this has been a rare positive outcome of the pandemic whereby remote working has put everyone in the same position regardless of where they are).
The core of our modelling expertise still sits in the UK, but we have outposts in several other global locations to support clients locally and can also draw on a large network of data partners and contacts, established over many years, to provide additional support as required.
Most importantly every time we approach a problem, we must consider how we would migrate our solution into other markets at a subsequent point if required, and what adaptations to data inputs or methodology would be needed to deliver an equally robust result.
QUEEN'S AWARD FOR ENTERPRISE: INTERNATIONAL TRADE
The Geolytix team are honoured that our achievement in building a thriving global business has been recognised with the Queen's Award for Enterprise: International Trade in April 2021. This is one of the most prestigious business awards in the UK celebrating the success of exciting and innovative businesses which are leading the way with pioneering products or services.
We extend our thanks to our amazing clients who put their trust in us to support critical investment decisions and strategic planning with data-driven intelligence, and look forward to continuing to help them, and many others, long into the future!
Luke Whittam, Business Development Director at Geolytix
Title Photo by Nataliya Vaitkevich from Pexels