PRESS RELEASE: Geolytix Retail Recovery Index
There seems to be a broad consensus on top-level recovery rates in the UK as lockdown eases. But every city, town, village, shopping centre, retail park and local parade has its own story.
8th July 2020
8th July 2020
Geolytix Retail Recovery Index
Why has Luton town centre recovered to 55% of previous activity levels, but Edinburgh city centre only 13%?
Why is Merry Hill shopping centre at 46% recovery, but Westfield Stratford only 22%?
Why have places like Swanage, Ross on Wye and Boroughbridge bounced back to 70%+ levels of activity, whilst places as diverse as Banff and Kingston are less than 20%?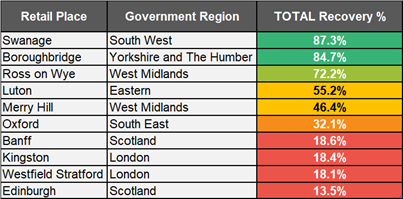 The picture is complex and dynamic. Looking at some of the biggest movers last week, we can see the effect of non-essential retail opening in Scotland, and school holidays in Northern Ireland. We can also see QSR-anchored Retail Park like Hatters Way in Luton, and Hermiston Retail Park in Consett start to motor.

Geolytix's Retail Recovery Index measures Retail Recovery across 6,000+ Retail Places in the UK. Weekly reporting provides a dynamic view of the evolving picture of recovery, with real-life examples across an unrivalled breadth of places across the country.
For more information, and to understand Retail Recovery in places you are interested in, please contact Ben Purple – ben.purple@geolytix.com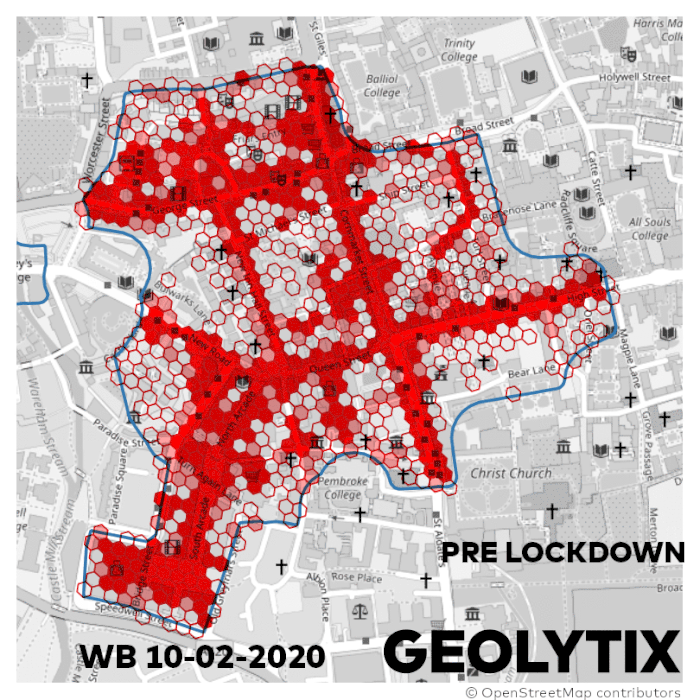 QSR = quick service restaurant
Related Posts
13th April 2021

With vaccinations now leading the daily news coverage of COVID-19, I decided to focus on some positive data, a better alternative to reading the 'worsening news'. Using the XYZ framework which underpins MAPP, we have built an open app that visualises vaccination rates across the world.

15th February 2021

We look at the effect 2020 has played on the workforce and employment patterns around Australia, a country on its journey out of lockdown.

8th February 2021

Covid-19 and lockdowns in particular have affected how the UK is shopping, predominately a surge in online shopping. Once lockdown is lifted, will we be itching to get back to the high-street or will online shopping continue to rise in popularity?