One of the beautiful things about mobility data is that it is global. Volumes vary by market and quality and cost varies by supplier, but we've now used the data in projects across the world for different purposes – from the UK to Thailand, Korea, Australia, Germany, Poland, Kazakhstan, and many more in between.
We've most recently been using Huq data to look at catchments in Romania, and thought we'd share a nice visual. We've looked at two major shopping parks in Bucharest – both of which happen to be anchored by IKEA stores (we haven't been working with IKEA on this – but if you're reading this, we'd love to 😊).  
We have buffered the shopping parks, identified devices that are active in each, and then linked these back to the suitably anonymised level of geography that is inherent in the data, to allow us to ascertain home location areas.
We've then visualised this to show the proportion of devices from any given home location area that are seen in Baneasa in Yellow, and Pallady in Blue, giving us an immediate view of catchment extent and, where there are areas with both yellow and blue, overlap.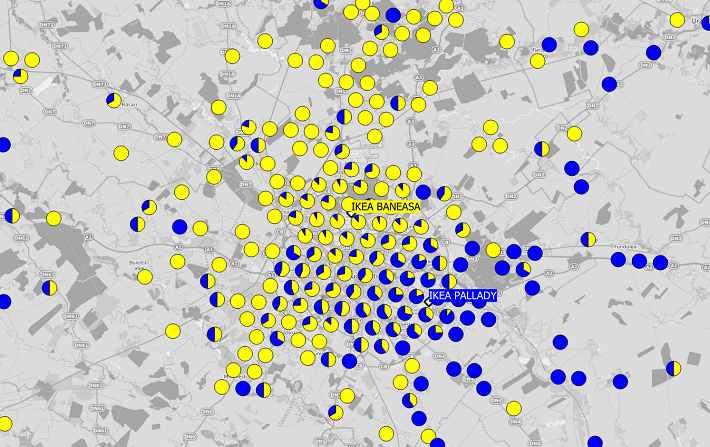 The results are reassuringly intuitive – and the great news is, if you're a retailer in Romania (or anywhere else), and you want to understand your catchment extents and profiles, it's possible (and maybe surprisingly affordable) for us to do this for your portfolio too.
Please drop us a line to have a chat -
Photo by Alexander Isreb from Pexels