Mobility Data Proves It – North London is Ours
Whilst looking through our Unacast mobile device ping data, we decided to use the data to look at which team had the highest active devices on home matchdays. And the results are in.....
19th April 2021
It's been quite the Monday for Spurs, with the controversial Super League announcement this morning, followed by the news that Jose has been relieved of duties the week before a Wembley Cup Final.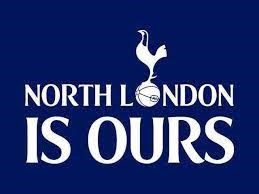 However, the big announcement has been saved until last – Geolytix have been busy looking at the 30 million pings of Unacast mobile device data we receive daily, and can now prove beyond any doubt that North London belongs to Spurs.
We have processed up data for every home fixture of every London Premier League club over 2019 - remember those heady days where we could go and watch matches live?
We have then geofenced devices in the stadia, and matched them back to the borough that is the 'home' location of the device.
We are then able to see, in each borough, which team have the highest volume of active devices on home matchdays.
The results are interesting, and show what we all already knew – North London belongs to Spurs, with the highest volume of supporters of any London club in Barnet, Enfield, Haringey, Redbridge and Waltham Forest.  Honours are shared with Arsenal in Brent and Hackney. Spurs also dominate Bexley, Southwark and (more surprisingly) Ealing.
As long suspected, Arsenal's roots as a South London club are reflected in the geography of their matchday fanbase. Unsurprisingly given their Woolwich origins, they dominate the borough of Greenwich.
West Ham are strongest in 3 boroughs (Barking and Dagenham, Havering and Newham), Crystal Palace take the honours in Bromley, Croydon and Surrey, whilst Chelsea clean up in 8 boroughs, mainly in west / south-west London, but also Camden.
Dan and Alessandro have got data pouring out of their ears on this, and there is a very real risk to Geolytix productivity as we pore over it – more to come, and please let us know if you want us to look at YOUR club in the comments. Needless to say, we're not letting Dennis or Donna, our resident Gooners, anywhere near the data in case they use it to misrepresent things…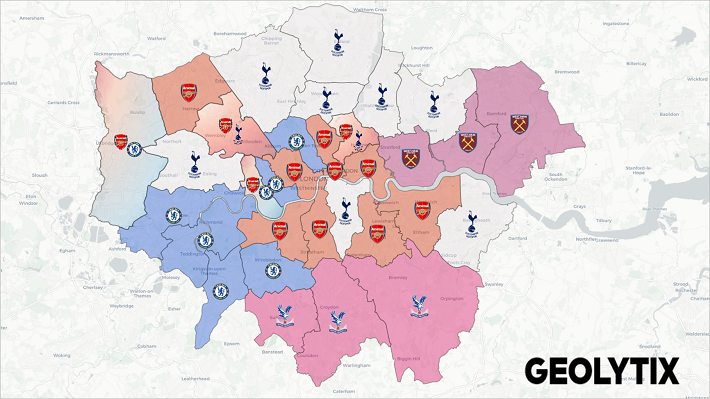 Ben Purple, Director at Geolytix
Title image: Photo by Connor Coyne on Unsplash
Related Posts
27th July 2022

Six years ago we had a team social to a newly opened Shuffleboard club called LondonShuffle. We were delighted to support them recently with some location data and analysis.

23rd February 2022

At last, time to dust off the trusty Geolytix tote for my first overseas adventure since the start of 2020. Where's Lou goes international... my first destination: Porto, Portugal's 'second city'.

26th January 2022

Coco discusses Chinese New Year traditions, and the slight alterations made throughout the pandemic.