Being a data scientist at GEOLYTIX means finding new ways to solve client problems and unlock geospatial insights (it's in our values!). Nothing sums this up better for me than the recent journey we've been on to create our new product in the Road & Network data pack - Modelled Traffic Volumes.
The product was born out of a client problem, one shared by many retailers and many industries, the seemingly simple question "how busy is this road?". In this instance it was to help our modelling work for the clients drive-thru format stores, but it's a challenge covering everything from siting petrol station forecourts, to dark stores and restaurants for the booming delivery market.
As with many of our data product innovations, we begin by looking at what we already have. Where better to start solving the problem than settling exactly what 'roads' we should use. The GEOLYTIX Road & Network data pack is a staple product used frequently by clients and in-house alike. Based on OS data including the Meridian 2 product and now the Open Roads, the GEOLYTIX product team have kept these topologically correct street geometries up to date and cleaned with useful attribution and flags for routing software. Perfect.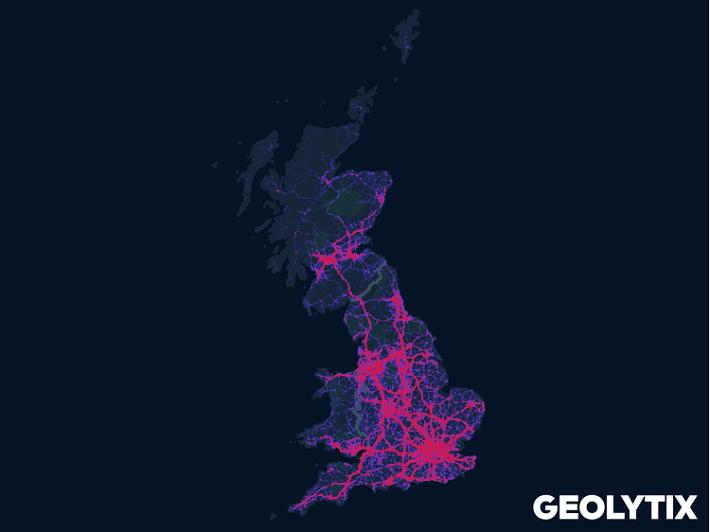 Also as part of the GEOLYTIX Road & Network data pack we consolidate, clean, and maintain the Department for Transport's traffic volume survey data. This comprises almost 30 thousand observation points across the UK. This DfT data is representative and well regarded quality-wise, however it can be challenging to disaggregate it properly down to a road level, and your nearest observation could be unusably far away.
We realised this was a perfect opportunity for some innovative 'value-add' by utilising these two open datasets with a bit of GEOLYTIX expertise.
Using the connectivity principals of network theory we made a graph model of all non-local roads in the UK to score them on their 'betweenness'. This measure of connectivity is based on shortest paths, with a score indicating the importance of an edge to the total 'interconnectedness' of the entire system. This would be our starting point for disaggregating our real world traffic observations in a smarter way.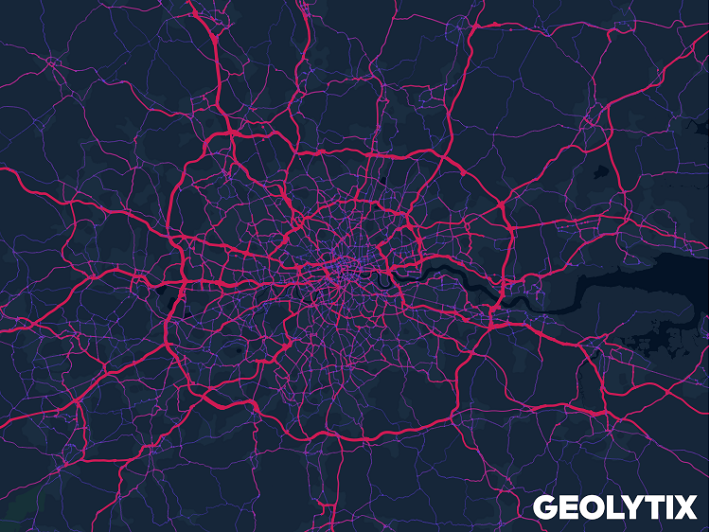 After a number of attempts, tweaking various road class and type lookups as well as differing drivetime iterations we reached a final output we were happy with. As well as being available as a flat data product for use in models or GIS systems, we've integrated our final Modelled Traffic Volumes in our MAPP instances. With MAPP you can visualise all the roads in the UK, and interrogate individual sections to see our modelled average daily traffic volume to help comparing sites, without leaving your browser.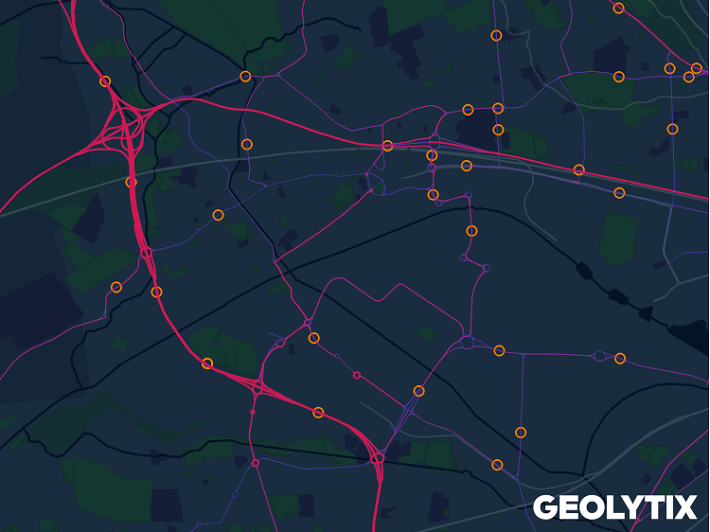 On a personal note, this is a piece of work I'm very proud to have contributed to, as I believe it's the epitome of the GEOLYTIX principals: doing expert work with openly available resources to create an enriched product that directly answers a requirement of our clients.
Chris Storey, Data Scientist at Geolytix
Photo by Denys Nevozhai on Unsplash