Groundhog Day
2021 and the UK woke up in another lockdown. We're interested to see how the retail industry is handling a second lockdown; our data already indicates some similarities with last lockdown. Will a preparedness for lockdown have any impact this time round?
27th January 2021
The start to 2021 has felt horribly familiar, with Lockdown 2 bringing all of the challenges of Lockdown 1, but with less banana bread.
The Geolytix Retail Recovery Index shows levels of activity across the 5,500+ Retail Places we measure dropping back to 27% of pre-Covid levels – very similar to Lockdown 1. The last 4 weeks have been very static, again replicating the pattern we saw last year.  Parades and Village Centres have been much more resilient, with activity levels averaging around 50%; City Centres remain decimated – London West End sat at 4% last week. So far, so similar.
But this time we have got a pretty good sense of what recovery might look like, with the obvious hope that the vaccination programme accelerates the return to normality versus last year and, most importantly, avoids a relapse. A slow and steady recovery once lockdown eases beckons – but retailers are at least better prepared from the experience of last year. The consistent stories of higher conversion rates from footfall, and higher average transaction sizes, will hopefully hold true again this year, and provide a brighter outlook for those who have been able to weather the storm.
A whole host of questions then beckon. Which customer changes will persist, and which will revert? Which businesses have changed forever as a result of the challenges forced on them, or innovations created by them, by circumstances in 2020? How on earth do you treat what has happened in 2020 in modelling forward plans? More of this from Alison in her upcoming blog.
It feels like the next few months will mean the new year still feels a lot like the old year, but we take hope from Groundhog Day. The curse was eventually broken.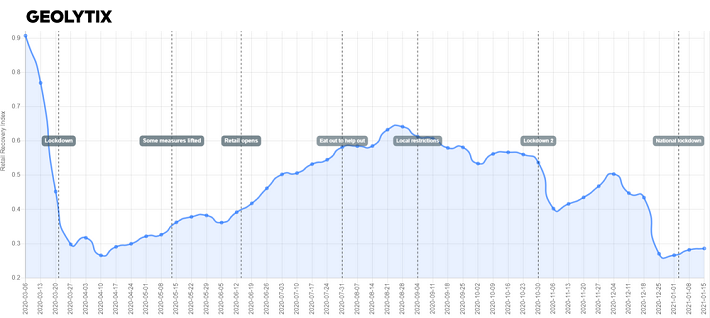 Ben Purple, Director at Geolytix
Photo by Gary Butterfield on Unsplash
Related Posts
13th April 2021

With vaccinations now leading the daily news coverage of COVID-19, I decided to focus on some positive data, a better alternative to reading the 'worsening news'. Using the XYZ framework which underpins MAPP, we have built an open app that visualises vaccination rates across the world.

15th February 2021

We look at the effect 2020 has played on the workforce and employment patterns around Australia, a country on its journey out of lockdown.

8th February 2021

Covid-19 and lockdowns in particular have affected how the UK is shopping, predominately a surge in online shopping. Once lockdown is lifted, will we be itching to get back to the high-street or will online shopping continue to rise in popularity?