How 5 coloured gazebos, social bubbles and community spirit got us through Lockdown...
Martin, an associate at Geolytix, volunteers at Mudlarks, a charity which was deemed a front line care service during the pandemic. Here he discusses the challenges he faced, and how Geolytix helped support him, support others
28th September 2021
I've been volunteering at Mudlarks, a local charity supporting adults with learning disabilities for more than 6 years, and here, as in almost every other aspect of all our lives, the last 18 months have presented a whole new set of challenges.  As is the case all over the country, dealing with these challenges, and finding a way to make things work has often brought communities closer together.
Being a front line care service, Mudlarks is an essential service, and therefore remained open to provide support for it's gardeners throughout every lockdown.  We are lucky in that the nature of our work, horticultural therapy, means we are outdoors, so therefore lower risk, but we still needed to adapt how we worked to keep everyone as safe as possible.
This is where the delivery of 5 gazebos (each a different colour) and a load of similarly coloured tabards came in.  They enabled us to work more safely in bubbles – one gazebo for each bubble, with everyone in the bubble sporting their appropriately coloured tabard.  Each bubble works together throughout the day, maintaining social distancing as they work, and use their gazebo for breaks.  A simple but effective solution, and easy for all the gardeners to understand and follow – not as warm as our old hut with it's log burner during the winter though!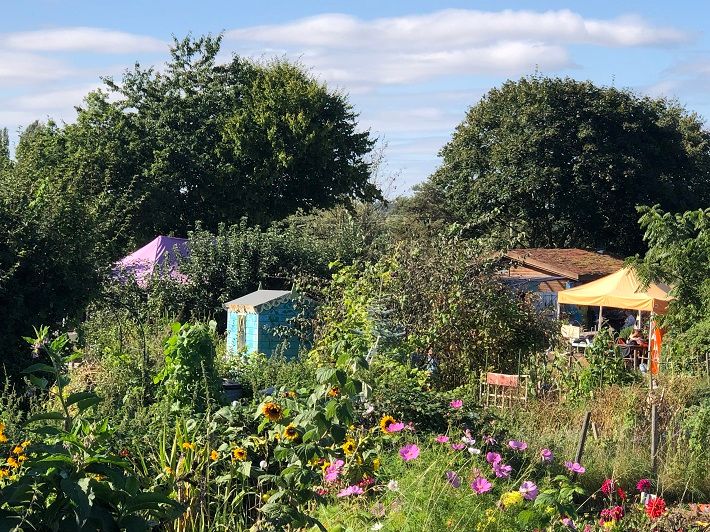 New routines also entered daily life – lateral flow tests in the morning before going to Mudlarks, staggered break times to help to keep the bubbles separate, sterilising cups/tables/chairs after tea breaks, then at the end of the day sterilising everything again, including all the gardening tools.
The nature of some of our gardeners' disabilities meant that they were at very high risk from Covid, and were therefore shielding at home for months, unable to come to Mudlarks.  We all know how mentally challenging lockdowns can be, and shielding must have been even tougher, because they couldn't leave the house at all. We therefore called each of them at least weekly, just for a chat, and at harvest time, delivered freshly picked vegetables from the allotment to their doors.  It's lovely to see them all back at Mudlarks again now!
There was also the challenge of a shortage of volunteers; for example some were themselves shielding, some had school children who were now at home learning due to schools being closed, and so were unable to volunteer.  I already enjoyed the benefits of flexible working at Geolytix by volunteering at Mudlarks one day per week, however I wanted to do my bit to help support Mudlarks through this difficult time.  I therefore asked if I could reduce my working days to three days per week, so that I could support Mudlarks on 2 days.  This was agreed without hesitation, in fact it was really positively supported – thank you so much Geolytix!
Finally, like charities all over the country, Mudlarks relies on the generosity of the community for donations and supporting fundraising events.  Throughout the pandemic, none of these fundraising events have been able to take place, so please spare a thought for your local charities, and as we edge back to a more open way of life, please support them if you can.
Martin Bregazzi, Associate at Geolytix
Related Posts
25th November 2021

Last Thursday was postgraduate results day at the University of Leeds, and although graduation is still a long way away (thanks to Covid-19 I haven't even had my undergraduate graduation ceremony yet), it feels like a perfect time to reflect on this chapter of my life.

25th November 2021

Over the years, Geolytix has grown internationally. Ben Purple, our Business Director, tells how our growth wasn't exactly how we originally envisioned.

23rd November 2021

Donna, Rachel, Josh and Kate recently qualified as Mental Health First Aiders. Here they talk about their reasons for qualifying and their plans for supporting the team at Geolytix.